Chemistry
Research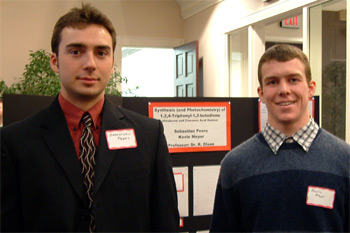 MANY CHEMISTRY MAJORS WORK WITH FACULTY ON RESEARCH PROJECTS during the academic year (Chemistry 87 or 88) or in the summer as part of the summer research intern program. The summer program provides for eight weeks of full-time research with a chemistry faculty person. Summer interns are paid a stipend and housing is provided by the College. Typically about a dozen students work with us each year. There are currently a number of additional research opportunities for students thanks to NSF funding.
Read more about Wabash student-faculty collaborative research:
Seth Bawel '12, Shane Evans '12, and Professor Ann Taylor.
Mike Lu '12, Xingcheng Liu '10, and Professor Scott Feller.
Austin Drake '11, Matt Schenkel '12, and Professor Wally Novak.