Alumni
Homecoming 2014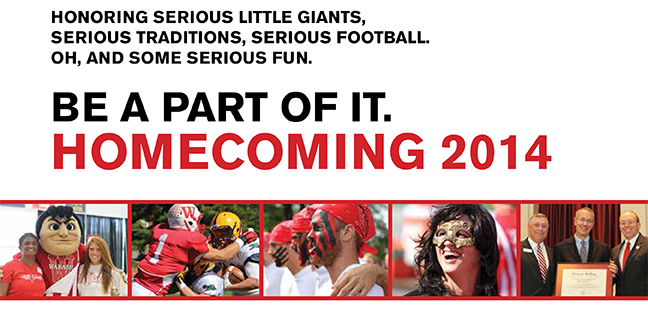 Schedule
Thursday, September 25, 2014
11:00 AM – Chapel Sing
Watch as the Class of 2018 participates in this rite of passage.
Friday, September 26, 2014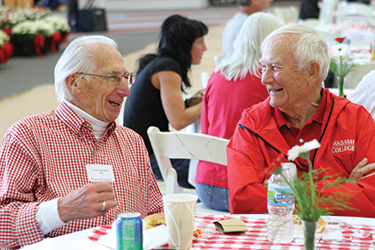 8:00 AM - 12:00 PM - Experience the Wabash classroom
Get a list of open classes at the Hays Alumni Center
12:00 PM - Faculty/Staff Luncheon, Fobes Lounge, Sparks Center
Join members of Wabash's faculty and staff for an informal luncheon and program (Cost: $5.00, pay at the door)
Saturday, September 27, 2014
10:00 AM - Kane Society Reception, Caleb Mills
The Kane Society recognizes and honors the alumni and friends of the College who have established planned gifts. The Society is named after Dr. Kane who so ably articulated the traditions and ideals of Wabash during his tenure as president. A special event invitation will be delivered to Kane Society members.
11:00 AM – Alumni Chapel, Pioneer Chapel
The annual Homecoming Alumni Chapel, celebrated in the spirit of Barney Hollett '36, represents the general meeting of the National Association of Wabash Men.
Alumni Award Winners:
Ray Jovanovich '84 - Fredrick J. Urbaska Civic Service Award
Dudley Burgess '64 - Frank W. Misch Alumni Service Award
James Dimos '83 - Clarence A. Jackson Career Service Award
Jeremy Bird '00 - Jeremy Wright Young Alumnus Award
Bert Stern - Honorary Alumnus
Jim and Susie Smith - Honorary Alumni
Jeff Soller '12 - Alumni Admissions Fellow
Oscar Torres '01 - Alumni Admissions Fellow
Marty Brown '06 - Career Services Fellow
12:00 PM - Soccer vs. Hiram, Mud Hollow Stadium
12:15 PM – Celebrating Leadership Luncheon, Knowling Fieldhouse, Allen Athletics Center.
Celebrate the Annual Fund's successful year and long history of supporting Wabash students. Reply requested (RSVP Online here or call 765-361-6369 by September 19.)
2:00 PM – Football vs. Allegheny, Byron P. Hollett Little Giant Stadium
5:00 PM - 'shOUT Homecoming Reception, Lilly Library 1st Floor (1832 Brew area)
Wabash students, faculty, staff, alumni, and friends welcome.
7:30 PM – Homecoming Concert, Salter Concert Hall, Fine Arts Center
Listen as the Wabash Glee Club presents the annual Homecoming Concert.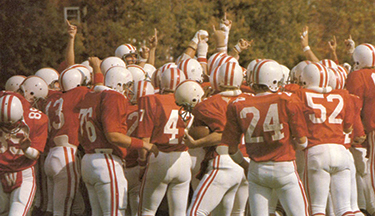 Celebrating The Streak
Visit wabash.edu/streak for details on events celebrating THE STREAK: three years of serious football domination, 24 consecutive games unbeaten from 1979-1981. Serious legends deserve serious celebrating.
*Make time to stop by the Eric Dean Gallery in the Fine Arts Center to see the Connectivity: Technology and the Natural World exhibit. In Array, John Douglas Powers explores multiple mythologies, from classical antiquity to 8-bit video games, via mechanical sculptures and static objects. His work interfaces with nature through a dialogue about landscape and natural patterns. Claudia Esslinger uses optical panels to obscure and reveal an abstracted vision of the sublime, while simultaneously using electronic controls to threaten its diappearance. For more details and for exhibit times visit www.wabash.edu/fineartscalendar.