Student Life
Academic Support
Wabash men are naturally competitive on the field and in the classroom. Once here, you'll be bombarded with reading, assignments, papers, quizzes, and exams. You'll look around and think everyone is smarter than you are. You may not want to ask for help.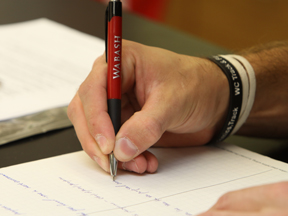 But you'll soon discover that there is support all around you. Every year, Wabash's professors are ranked among the most engaging and most accessible in all of higher education. Their doors are almost always open and if they're in their offices, you can go in to ask questions, seek advice, or just chat.
You'll find study help down the hall in your fraternity or residence hall. Wabash has a grand tradition of students helping one another — in fraternities, residence halls, and athletic teams — in all aspects of their academic experience.
Wabash also provides academic support in a more formal way through its excellent Writing Center and Quantitative Skills Center, which are directed by Ms. Julia Rosenberg. Her team of Writing Center tutors is knowledgeable and supportive in all aspects of academic writing. All of the Writing Center tutors are upperclassmen — across all academic disciplines — who come recommended by their teachers and receive special training.
The Quantitative Skills Center tutors — some of the smartest guys you'll ever meet — will help you with biology, chemistry, math, physics, and economics. All of our tutors come highly recommended by faculty because of their talent and ability to tutor students.
Academic Support Services, located in the Armory (room 101), also provides a wide range of individualized services. Ms. Rosenberg can help you set up a time management plan, stay motivated, take better notes, you name it. Download the Office's
Wabash Study Tips booklet
today.