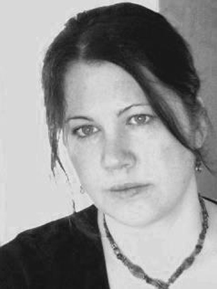 Stefani Rossi
VISITING ASSISTANT PROFESSOR OF ART
Prior to joining the Wabash community in the Fall of 2011, Professor Rossi enjoyed teaching in Slippery Rock, PA, and Fort Collins, CO.

Through her creative research, Professor Rossi aims to cultivate intimate encounters, extending an invitation for viewers to contemplate the larger narratives in which we participate on a daily basis. Her most recent work project examines how people enact ritual journey as a process for sating the desire to belong.
EDUCATION
Colorado State University (CSU), Fort Collins, CO—Master of Fine Arts; Painting
University of Puget Sound, Tacoma, WA—Bachelor of Arts, Studio Art; Painting/ Printmaking
Phi Kappa Phi; Departmental Honors
RECENT COURSE OFFERINGS
Art 120: Introduction to Studio-2-D Design
Art 125: Drawing
Art 225: Special Topics—New and Expanded Media
Art 228: Painting
Art 330/331: Advanced 2-D Media
Art 432/433: Senior Studio
RESEARCH
RECENT PRESENTATIONS
Solo Exhibitions
2013- Eric Dean Gallery, Wabash College, Crawfordsville, IN. Circuitous Center.
2011 - Clearstory Gallery, Spokane, WA. Bitter/Sweet.
2010 - Doane College--Rall Gallery,Crete, NE. Much: Recent Work.
2009 - Colorado State University (CSU)—Mini Gallery, Fort Collins, CO. Mea Culpa.
2008 - The Gallery Underground, Fort Collins, CO. Stefani M. Rossi: Recent Works.
2006 - Café Europa, Denver, CO. Drink The Cup.
See Group Exhibitions, Grants and Awards, and Professional Affiliations here.