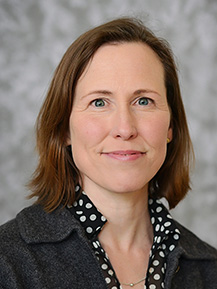 Bronwen Wickkiser
BKT ASSISTANT PROFESSOR OF CLASSICS
Professor Bronwen Wickkiser joined the Wabash faculty in 2013 after teaching as an assistant professor at Vanderbilt University. A specialist in ancient Greek history and culture, especially the intersection between religion and medicine, she has published a book on the healing god Asclepius and co-edited a volume on Greek cult practice. Dr. Wickkiser's interests within classics range widely, from sacred spaces, to the poetry and art of Augustan Rome, to classical reception. Her current book project examines performance, architecture, and acoustics in Greek sanctuaries as they relate to music therapy. Dr. Wickkiser earned her BA at Oberlin College and MA and PhD at the University of Texas at Austin, and has received fellowships from the National Endowment for the Humanities and the Loeb Classical Library Foundation.
A passionate proponent of study abroad, Dr. Wickkiser enjoys taking students to Greece to walk in the footsteps of Homer. She also enjoys exploring with Wabash students the culture of neoclassicism right here in Crawfordsville, from the Lew Wallace Study to war memorials and burial monuments. Currently, she teaches courses on Greek and Latin language and literature, and on the history and culture of Greece.
Dr. Wickkiser serves on the Managing Committee of the American School of Classical Studies in Athens (Greece), where she has spent several years in residence, and on committees for the American Philological Association and Classical Association of the Middle West and South.
She lives in the 'Athens of Indiana' (Crawfordsville) and is an avid rower who trains and competes in national regattas with the Indianapolis Rowing Center.
RECENT PRESENTATIONS
"Sterilis Fecunda Probatur: Birth Narratives, Fertility, and the Iamata of Apollo," American Philological Association Annual Meeting; Chicago, January 2014.
"Music, Healing, and Sacred Space at the Sanctuary of Asklepios at Epidauros," XIVe Colloque hippocratique, Paris, November 2012.
"A Sterilis Amor: Antaphrodisiacs, Abortifacients, and Ovid's Apollo and Daphne (Met. 1.452-567)," American Philological Association Annual Meeting, Society for Ancient Medicine panel; Philadelphia, January 2012.
"Music, Performance, and Therapy in Ancient Greek Cult: The Thymele at Epidauros," co-authored with Peter Schultz; XII. Congress of the ICTM Study Group for Music Archaeology; Valladolid, Spain, September 2011.
"Reflections on Civil War, the Body Politic, and the Confederate Memorial at Arlington," American Philological Association Annual Meeting, Society for Ancient Mediterranean Religions panel; San Antonio, January 2011.
"Narratives of Conception at Asklepieia," 2nd Amphictyony of Societies of History of Medicine & Ethics in Medicine; Cos, Greece, April 2009.
"Negotiating Cult(ural) Identity: Epidaurian Asklepios at Rome," XVII Congresso Internazionale di Archeologia Classica; Rome, Italy, September 2008.
RECENT PUBLICATIONS
Recent Articles
"The Iamatika of the New Milan Posidippus." Classical Quarterly. Forthcoming.

"IG II2 4963 and the Priesthood of Asklepios in Athens." Zeitschrift für Papyrologie und Epigraphik 179 (2011) 123-5.

"Communicating with the Gods in Ancient Greece: Acoustics and the Design of the Thymele at Epidauros," Peter Schultz and Bronwen Wickkiser, International Journal of Technology, Knowledge and Society 6.6 (2010) 143-164.

"Hesiod and the Fabricated Woman: Poetry and Visual Art in the Theogony." Mnemosyne 63 (2010) 557-576.

"Missing Stones Speak: The New Acropolis Museum and the Mysterious Case of Vanished Athenian Imperialism." Arion 18.1 (2010) 149-158.

Books
Aspects of Ancient Greek Cult: Context, Ritual and Iconography. Aarhus Studies in Mediterranean Antiquity 8. Edited with J. Jensen, G. Hinge, and P. Schultz. Århus: Århus University Press, 2009.

Asklepios, Medicine, and the Politics of Healing in Fifth-Century Greece: Between Craft and Cult. Baltimore: Johns Hopkins University Press, 2008.