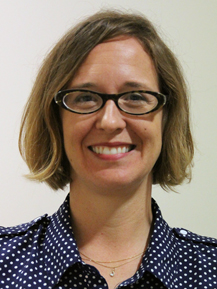 Adriel Trott
BKT ASSISTANT PROFESSOR OF PHILOSOPHY, GENDER STUDIES PROGRAM CHAIR
Adriel M. Trott is an assistant professor in philosophy focusing on ancient, continental and political philosophy. She comes to Wabash in 2013 from five years as an assistant professor at the University of Texas, Pan American in the Rio Grande Valley where she developed research and teaching projects addressing ancient and contemporary conceptions of borders and border life. She founded and directed the Gloria E. Anzaldúa Speaker Series in Philosophy, participated in the Advance Leadership Institute sponsored by the National Science Foundation and won the College of Arts and Humanities' Faculty Excellence Award in Research. Dr. Trott's work in ancient philosophy develops Aristotle's conception of nature as an internal source of movement to understand Aristotle's claim that the political community is natural. This definition of nature enables Aristotle to think an open conception of community, one wherein the community is defined by its activity and moves from the capacity within itself to actualize itself. Dr. Trott's work in general addresses the metaphysical and ontological assumptions of conceptions of community in the history of philosophy as she considers what ontological ground is necessary for thinking open community. These investments direct her attention to the history of the concept of sovereignty from Carl Schmitt to Hannah Arendt, Giorgio Agamben and Alain Badiou. Trott teaches classes in ancient, modern, political, and contemporary continental, as well as in race and gender theory.
When she is not teaching or researching, Dr. Trott can be found running the paths of Crawfordsville and philosophizing in the streets. A Philadelphia native, she supports all things Brotherly Love.
EDUCATION
Ph.D. Philosophy, Villanova University, 2008
M.A. Philosophy, Villanova University, 2003
B.A. Government and Political Philosophy, College of William and Mary, 1998
RECENT COURSE OFFERINGS
PHIL 140 Philosophy of the Classical Period
PHIL 109 Conceptions of the Self
PHIL 449 Senior Seminar on Plato's Republic
RECENT PUBLICATIONS
Book: Aristotle on the Nature of Community, Cambridge University Press, forthcoming 2014
Articles:
"Ruling in Turn: Political Rule Against Mastery in Aristotle's Politics." Epoché: A
Journal for the History of Philosophy. 17 (2013): 301-311.
"Rancière and Aristotle: Parapolitics, Part-y Politics and the Institution of
Perpetual Politics." Journal of Speculative Philosophy. 26:4 (2012): 627-646.
"The Human Animal: The Rational and the Natural in Aristotle's
Anthropology." Epoché: A Journal for the History of Philosophy. 16 (2012):
269-286.
"The Truth of Politics in Alain Badiou: 'There is Only One World.'" Parrhesia: A
Journal of Critical Philosophy 12 (2011): 82-93.
"Logos and the Political Nature of Anthrôpos in Aristotle's Politics." Polis: The
Journal for Ancient Greek Political Thought. 27 (2010): 292-307.
"Toward a New Metaphysics: Difference in Irigaray's Reading of Plato's Cave."
Philosophy Today 50 (2006): 22-30.
HONORS AND AWARDS
Faculty Excellence Award in Research, College of Arts and Humanities, University of Texas, Pan American, 2012
Texas Humanities Mini-Grant from Texas division of the National Endowment
for the Humanities, 2009?2010
John Tich Award for Scholarly Excellence, Villanova University, Fall 2007
Villanova University Graduate Studies Research Award, 2007
John Harvey Award for Teaching Excellence, Villanova University, Fall 2005