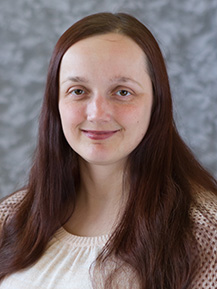 Alexandra Hoerl
ASSISTANT PROFESSOR OF POLITICAL SCIENCE
Lexie Hoerl joined the Wabash faculty in the 2009-10 academic year. Her primary responsibility is to teach political theory, but she also teaches courses in American government. Her dissertation examined the relationship between attitudes toward classical rhetoric and attitudes toward republicanism in the late Renaissance, early modern and modern periods and includes analysis of major political theorists like Hobbes, Locke, Hume and Marx. While she continues to work on articles related to rhetoric and its role in shaping both theories of democratic citizenship and American political institutions, her current book-length research project is on the role of ingratitude in the political thought of Niccolo Machiavelli. She has had the opportunity to both involve Wabash students in her own research and to supervise them as they conduct their own research. In the summer of 2011 she took Ian Muller '12 and Tyler Wade '12 to Florence, Italy; Muller was her research assistant and she helped Wade conduct his own research. She looks forward to providing similar opportunities for Wabash men in the future.

Hoerl enjoys being an active participant in Wabash campus life and can be seen at plays, music concerts, guest lectures and sporting events of all sorts. She is a particularly enthusiastic basketball fan and almost never misses a home game. She is very proud of her perfect record as official basketball scorer during the Fall 2010 semester. Hoerl also serves as faculty sponsor of the Cigar and Pipe Club and Wabash's chapter of Pi Sigma Alpha Political Science Honor Society When she is not on campus she enjoys going to the symphony and opera, exploring restaurants and sites in Crawfordsville and the surrounding areas, and doing civic work with the Montgomery County League of Women Voters.
EDUCATION
Ph.D. in Political Science, Rutgers the State University of New Jersey, May 2008
BA with Honors in Public Policy, University of North Carolina, May 2002
RECENT COURSE OFFERINGS
*Cultures and Traditions
*Enduring Questions
*PSC 111 - Survey of American Government
*PSC 231 - Survey of Political Theory
*PSC 316 - Public Policy
*PSC 330 - Topics in Political Theory, Classical/Medieval (recent offerings have included "Medievalism and the Modern Imagination" and "Roman Political Thought")
*PSC 335 - Topics in Political Theory, Renaissance/Modern (recent offerings have included "Machiavelli" and "Nietzsche")
*PSC 373 - Special Topics in Political Theory (recent offerings include "Democracy & Technology I: Reputation")
*Recent independent studies in Political Science include "Politics in the Utopias of More, Bacon and Harrington;" "Modern Political Ramifications of the Courtly Love Pattern" and "The Evolution of Concepts of Political Legitimacy"
RECENT PRESENTATIONS
"The Issue of Ethos in Political Rhetoric." Talk given to the Political Science Department of Indiana University, January 2010.
"Nonverbal Persuasion and Democratic Theory" Annual Meeting of the American Political Science Association, September 2-5, 2010, Washington, DC.
"Machiavelli and Ingratitude." Annual Meeting of the Midwest Political Science Association, April 22-25, 2010, Chicago, IL.
"Is Home Where the Heart is When the Heart is on Facebook? The Internet's Effect on Geographic Identity and Citizenship." Meeting of the Midwest Political Science Association, April 2-5, 2009, Chicago, IL.
RECENT PUBLICATIONS
Review of Five Chapters on Rhetoric: Character, Action, Things, Nothing and Art, by Michael S. Kochin and Socrates on Friendship and Community, by Mary P. Nichols. Perspectives on Politics 7.4 (December 2009).