Wabash
news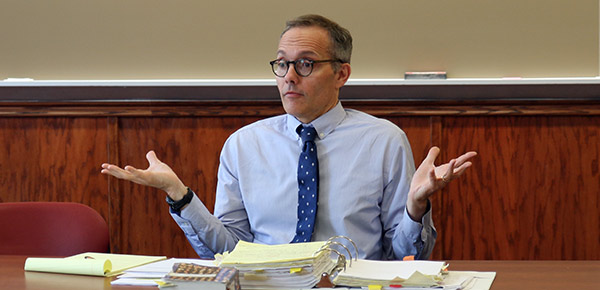 Rhodes Trust Honors Scott Himsel
When Jacob Burnett '15 learned the Rhodes Trust was looking to establish an Inspirational Educator Award, he thought immediately of Scott Himsel '85.
Read More
---
Runge '71 Honored, Leadership Explored

The Indianapolis Association of Wabash Men honored Tom Runge '71 and brought to light the leadership styles of three of the College's most successful alumni Thursday morning.
Read More
Falk Calls Law 'An Extremely Human Endeavor'

With a career spent defending individual liberties, perhaps it wasn't surprising that Kenneth Falk, Legal Director of the American Civil Liberties Union of Indiana, described the Bill of Rights as being like poetry during the keynote address Monday at the David W. Peck Lecture and Awards Banquet.
Read More
Wabash College Communications and Marketing
P.0. Box 352
Crawfordsville, IN 47933-0352
1-765-361-6396
email:
communications@wabash.edu
---
More News