Clock is Ticking on Year-End Giving
December 1, 2013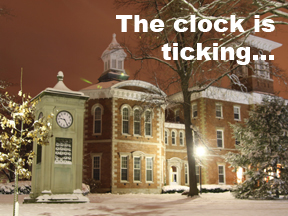 Wabash is appreciative of alumni, parents, and friends who make gifts to the College each year in support of our mission to educate men to think critically, act responsibly, lead effectively, and live humanely.
Support Wabash Students with a Gift by December 31, 2013!
More than 60% of alumni, parents, and friends who make a gift to the College each year make their gift by December 31 for tax benefit purposes. Make your gift online now or call the Advancement Office at 877-743-4545 to make your gift today!
December 31 Deadlines
Those who make a credit card gift should do so by midnight December 31 to make sure they receive proper credit for the 2013 tax year.
Gifts made via US Mail must be postmarked "December 31" to receive credit for the 2013 tax year. Gifts can be mailed to:
Wabash College / Advancement Office / PO Box 352 / Crawfordsville, IN 47933
For information and deadlines on making gifts of stock or mutual funds, please contact the Advancement Office at giving@wabash.edu or at 877-743-4545.
IRA Rollover
Alumni and friends who are age 70½ or older have the opportunity to use IRA funds to make charitable gifts without the amount of the gift counting as a taxable distribution. This opportunity is available until the end of 2013. Learn more.
Will Your Employer Match your Gift?
Did you know that thousands of companies match employee contributions to Wabash? What's even better is that most companies with these programs will match donations made at any point during the last year! Your support to Wabash College is already making a difference and you might be able to double or even triple the impact of your gift. Visit our Matching Gift website to see if you can increase the value of your contribution.
Indiana Residents: Take Advantage of State Tax Credits When Giving to Wabash
Did you know the State of Indiana will reimburse you $.50 on the dollar for every dollar you give to Wabash? That's right, individual filers living in Indiana receive a $100 credit for the first $200 contributed to Wabash, while joint filers receive a $200 credit for the first $400 in giving. The illustration below shows the significant impact individuals and couples can make at a relatively small out-of-pocket cost after taking advantage of the Indiana Tax Credit and federal tax savings.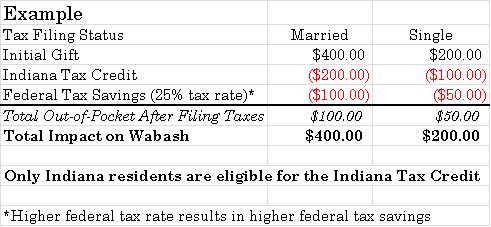 Combine the Indiana Tax Credit with Your Company Match!
By taking advantage of a company matching gift and the Indiana Tax Credit, Wabash alumni, parents, and friends can have an even greater impact on the College! Here is an example: