Technology
Postini Spam Blocking
To help control junk email on campus, Wabash ITS has licensed with Postini Perimiter Manager, a service that keeps junk mail from ever reaching your email inbox.
Logging In To Postini

You can log in and check your settings and see quarantined messages by opening the following web site:

www.wabash.edu/spam
You can click on the following icon in Webmail (below your list of email folders):



Log in using your full email address (e.g. weaverb@wabash.edu) and your regular Wabash network password.
Reviewing Quarantined Mail

After logging in you will see your message center, which shows a list of any suspicious junk mail Postini has quarantined:

These messages will be stored for 14 days. You can delete them by checking the box next to each message and clicking "Remove", or if you do nothing with them they will automatically be purged after 14 days. To select all messages, check the box immediately to the left of "Sender".

If you see a legitimate email message in the list of suspicious junk email, check the box next to the message and click "Deliver". The message will be released to your Wabash email account, and you can read it there. Note that the message will have the date it was sent, NOT the date/time you released it, so you may need to scroll through messages in your inbox to find the message.

After you click the "Deliver" button, you will see a message on the screen similar t

If you want all messages from this address to always be delivered to you, check the "Approve" box and click "Continue". This address will then be added to your "whitelist" and all future messages will bypass the junk mail system.


Postini Settings

If junk mail is still getting through, or too many legitimate messages are being blocked, you can tune the junk mail filter to be more lenient or aggressive based on your own personal preferences. To change the settings, after logging in to Postini click on "Junk Email Settings" (near the top of the window). You will see options similar to: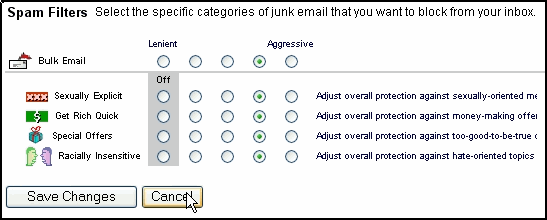 Messages first pass through the bulk email filter before the other filters, so most quarantined messages will be identified as bulk email even if they fit another category. You can experiment with different settings and see how the system responds.


Alias Email Addresses

Some people at Wabash receive email sent to an alias address (for example, messages sent to netadmin@wabash.edu are forwarded to weaverb@wabash.edu). If you receive forwarded email, Postini will block junk mail to these addresses too, but they will appear mixed in with email sent directly to you, and they will be processed according to your primary account rules. You will access quarantined junk mail for the alias addresses by logging into Postini using your primary account. For help with alias addresses, please contact the help desk.