Wellness
Club Sports
Cycling Club
Coach: Roger Busch
President: Chris McDougal/Kevin Wynder
Treasurer: Adam Soshnick
The cycling club has been re-activated for the spring of 2012 and is looking to continue for quite some time. The club currently has around fifteen guys in it of various skills and different goals; ranging from competing in races to varsity athletes using the club to stay in shape during the offseason. The cycling club belongs to the Midwest Collegiate Cycling Conference which has races throughout the Midwest. The club features an indoor training facility complete with trainers for the winter months; and has scheduled rides in the area when the weather is nice. Rotten Robbie's Cycle Sports, a local bike shop in Crawfordsville, assists the club with custom kits, tune-ups, equipment, and anything else needed to get out and ride. If you're interested in racing, learning more about the sport and bikes, or just want to stay in shape this club is for you. Please feel free to contact Coach Busch at buschr@wabash.edu for more information.
Western Martial Arts
President: William McDonough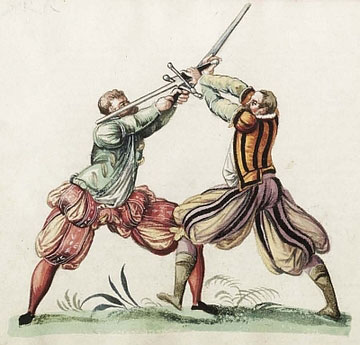 Western Martial Arts Club= Full contact sword fighting. Current styles being practiced include, hand-and-half, sword and buckler, roman legionnaire: shield and gladius, and spears.