Research AT
WABASH
Learning at Wabash: A Collaborative Process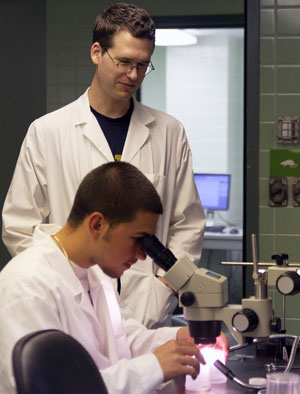 Our strong liberal arts ethos leads us not only to acquire knowledge, but to participate actively in the creation and discovery of new ideas.
Motivated students at Wabash College earn opportunities to work side by side with their professors on research and creative projects. While large 'research universities' might appear to provide the best exposure to research, at Wabash, undergraduates are the priority and students from every department across campus are regularly involved with faculty on innovative projects.
From summer internships and independent study, to larger research groups, Wabash faculty value the opportunity to mentor students and help them pursue opportunities to build upon and then move beyond the classroom. Funding for student projects is available through a
grants program
and through a variety of departmental and divisional resources.
Student and faculty collaboration is showcased every January when Wabash hosts a campus-wide research conference where dozens of students present their work to the entire campus community. See our
Undergraduate Research webpage
for more details.
Student-faculty collaborative research and creative work occurs in virtually every academic department across the College. Here are a few recent examples of the way students and faculty work together:
Students from the Wabash Summer Institute in Mathematics have won "Outstanding Poster Award" distinction at the national Joint Mathematics Meetings three times in recent years.
Students from Modern Languages regularly present at the Butler Undergraduate Research Conference.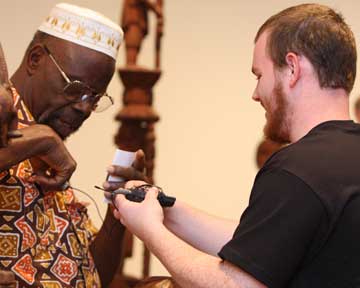 Students from Chemistry have traveled to present research at the American Chemical Society national meeting. And four chemistry majors traveled with Professor Scott Feller to the Biophysical Society in Baltimore.
Psychology Professor Neil Schmitzer-Torbert, working with a $270,000 National Institutes of Health grant, works with psych students on research on the effects of addictive drugs on the brain's memory systems (pictured at top).
Nine art students collaborated with Professor Elizabeth Morton to curate (and bring technology to) the Indianapolis Museum of Art's 2011 exhibit "Dynasty and Divinity." Professor Morton also collaborated with students Joe Reese and Aaron Cantu to make a documentary film about the life of the late African wood carver Lamidi Fakeye (photo left).
Chadwick Woods traveled to Prague with English Professor Agata Szczeszak-Brewer, where each presented papers at an international conference on James Joyce. Woods' trip was funded by the Undergraduate Research Committee..
Wabash theater students traveled with Professor Dwight Watson to perform readings from a play, Terra Nova, at the American Museum in New York City as part of the museum's celebration of the race to the south pole.
After interning with Chemistry Professor Ann Taylor following his freshman year, Edward Evans was one of 10 students (from a pool of 300) to gain entrance to the University of Arkansas' Research Experience for Undergraduates. In August he was named the winner of the Tony Jude Award for Outstanding Research.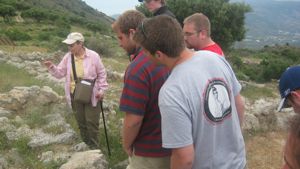 For nearly three decades, Classics Professor Leslie Day took students with her to her archeological dig at Kavousi, Greece. That work has resulted in the publication of more than a half-dozen books and dozens of journal articles.
A $217,000 National Science Foundation grant allows Biology Professor Amanda Ingram to work with her students on research of chloridoid grasses. The grant provides funding for field and lab work here at Wabash, and also at the Rancho Santa Ana Botanic Gardens in California.