Two Grads Named Governor's Fellows
by Richard Paige

July 6, 2017

A pair of Wabash College graduates were among four people named by Indiana Governor Eric J. Holcomb to serve as Governor's Fellows in 2017-18.

James Suess '17 and Colin Thompson '17 earned this unique opportunity to participate in state government. The highly selective year-long fellowship will rotate them through various state agencies over the next 12 months, allowing for participation in the daily activities of state government, the completion of special projects, observation of how work in the Capitol translates into action throughout the state, and gaining first-hand policy experience.

"The ability to directly join the Governor's office is amazing," said Thompson. "It's a very exciting opportunity to get involved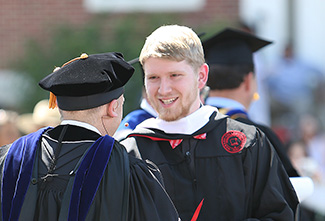 with and to potentially affect change at the state level."
Thompson majored in French and had minors in business and political science while at Wabash. The Indianapolis native was a member of the Student Senate, where he helped craft a new constitution for the student body, and was a member of Phi Gamma Delta fraternity. An accomplished photographer, Thompson served as Photo Editor for The Bachelor, the College's award-winning student newspaper.
A native of Indianapolis, Suess majored in rhetoric and minored in religion. He was a member of Beta Theta Pi fraternity, where held a number of leadership positions. Outside of school, he served as a volunteer and advisor for the nationally-ranked "We The People" team at Cathedral High School, which participates in the Indiana Bar Foundation's premiere civic competition.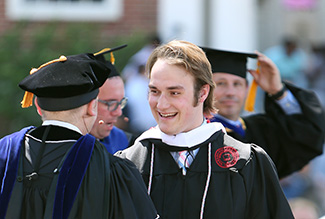 "This is where the real work happens," said Suess. "Most of the important issues Indiana faces will be solved by the state government. The people in Governor Holcomb's office are incredibly kind and have a passion to serve the people. I'm very excited to get started."
Because Governor's Fellows work in a variety of settings, a solid understanding of the workings of government has provided a springboard to success in both the public and private sectors following this year of public service. The fellowship runs through June 30, 2018.