Millikan Earns NCAA Postgraduate Scholarship
by Brent Harris

March 14, 2007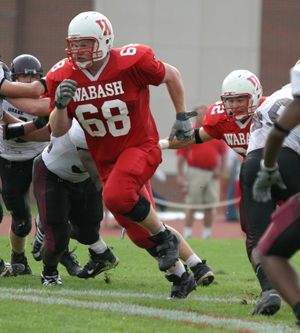 Wabash senior Patrick Millikan isn't certain where he'll be studying medicine next year, but he knows where some of the money to attend graduate school will come from.
Millikan, an All-North Coast Athletic Conference football lineman and Wabash team co-captain, was one of 29 male student-athletes to receive the prestigious NCAA Postgraduate Scholarship. The announcement came in a letter Millikan received Monday.
Over 219,000 men participate in athletics in all three Divisions of the NCAA. Only 29 Postgraduate Scholarships are awarded - a $7,500 one-time, non-renewable grant.
Millikan was clear about his plans to use the scholarship money.
"I plan to attend medical school because I feel becoming a doctor provides an opportunity to impact lives in many different ways," he said. "I want to assist and comfort people while building a close personal relationship with them."
Wabash head football coach Chris Creighton praised Millikan's efforts on and off the field.
"He is a man of extremely high moral character," Creighton said. "He was voted by both players and coaches to captain the team during his senior year. Patrick has always taken a genuine interest in other players' lives. He builds relationships. People follow him because they trust him, they respect his work ethic, commitment and self-discipline, and becasue they know that he has the team's best interest in mind in everything that he does."
Professor Tobey Herzog, Wabash faculty athletics representative, recommended Millikan as a scholarship nominee, and echoed Creighton's praise of the senior.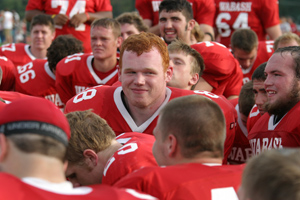 "Patrick interviewed for admission to medical school at Indiana University. Why was such an event so significant for Patrick when probably several of the other nominees considered by the NCAA Scholarship committee had similar medical school interviews? The answer lies in Patrick's major and minor - religion and art. These designations speak to Patrick's versatility as a student. He has taken an uncoventional and, I would argue, a more demanding route to achieving his goal of becoming a doctor.

"Wabash is very proud of Patrick's accomplishments as a football player and his contributions to the team's success, but we are even prouder of Patrick as a student and citizen of our college community."

A graduate of Castle High School, the Newburgh, Indiana, native is the third member of his family to attend Wabash, following in the footsteps of his father and grandfather. Millikan was a 2006 ESPN The Magazine/CoSIDA Academic All-District V First Team selection and helped the Little Giant football team win back-to-back NCAC titles in 2005 and 2006. He earned three varsity letters as a member of the Wabash football team, starting all 10 games this season as a right tackle. He was part of an offensive unit that ranked ninth in the nation in total offense, third in passing offense, and 11th in scoring averaging while holding opponents to an average of 1.4 sacks per game. He protected starting quarterback Dustin Huff, the top passer in the nation in efficiency rating and third-best player in Division III in total offense. Those numbers helped Millikan earn a place on the D3Football.com All-North Region Second Team.

Millikan has also been active outside of football. The former president of the Lambda Chi Alpha fraternity at Wabash has served as the scholarship chair for his chapter. He dedicated time to assist in creating and constructing a memorial to victims of the Newburgh tornado in 2006, has served as a volunteer at a local family shelter, and has read stories to Crawfordsville elementary children as part of the football team's school reading program. Last summer Millikan and several of his teammates traveled to Panama, working in local villages to assist in preparing and clearing fields. The team also worked with local youth during their tour of the country. Millikan also produces a cartoon for The Bachelor, the weekly Wabash campus newspaper.

Millikan is the 15th Wabash student-athlete to receive an NCAA Postgraduate Scholarship. The last Little Giant to receive the award was swimmer Grant Comer '97. Bill Padgett '92 was the last football player to be honored by the NCAA with the award.

The NCAA presents 87 postgraduate scholarships to men and another 87 to women who compete in intercollegiate athletics at any level at a member school. Twenty-nine of the 87 scholarships are presented in each sports season (fall, winter, and spring).




For more information see: