Brown County Known for its Artists
July 10, 2007

The history of Indiana art is richer than most might think. The Brown County Art Colony is an important contribution to this fact. In the early twentieth century when it was established is was one of only six art colonies in America. Even to this day there are few areas of its kind in the nation.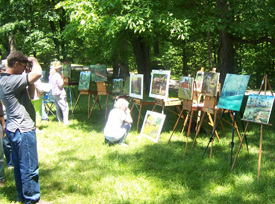 The Brown County Art Colony was established in 1907 when T.C. Steele became the first artist to take up residence there, determined to embrace the wilderness of Southern Indiana. Soon after, other prominent artists arrived such as Adolph and Ada Shulz, and Will Vawter. In 1926, the Brown County Art Gallery was founded which gave an outlet for many artists of the area to show their works. After this the art of Brown County flourished, and flourishes to this day. Over 100 artists take up residence in Brown County- many are nationally acclaimed.
The Brown County Art Colony gave Indiana prominence in the art world by showcasing such Indiana greats as T.C. Steele, Marie Goth, Dale Bessire, and Glen Cooper Henshaw- all of which painted works that reside at Wabash College today. Their works and the works of their colleagues from the area are hung up in galleries but also scattered throughout Indiana, each painting with a different story of why it was made and how it got to its current location. When one learns about Brown County art, they can't help but learn Indiana history along the way.

Mitch Brown '10 is from Plainfield, Indiana.