Wabash Men Practicing 'Living Humanely'
March 10, 2011
Rebuilding New Orleans
Keaton E. Becher '13 - New Orleans
-
After two days of hard work, we had to take a little break today as heavy rain came roaring in to New Orleans during the wee hours of the morning. However, many of us are rejoicing at the small break we were able to have today as well as the wonderful blessing of now having an internet connection at the mission we are staying at. Our current project has involved helping a local minister, Pastor Washington, rebuild a house for some of his relatives in the Lower Ninth Ward.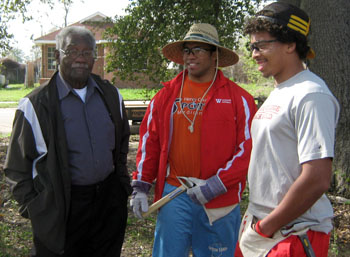 With a fervent passion to help serve and a strong work ethic, our hardy group of Wallies and friends from First Christian Church in Crawfordsville, have worked on everything from roofing to putting up siding. An especially exciting aspect of our trip has been the fried chicken Pastor Washington has brought to our group these past couple of days for lunch. It has truly been amazing to see such a diverse group of Wabash Men come together so quickly in such little time. Already on our first night here, we were breaking up into devotional groups and playing games to pass the evening.
Although our time down here is so short, traveling back and forth from the worksite to the mission we are staying at has provided me with a glimpse of the devastation New Orleans faced during and following Hurricane Katrina. It's hard for me to imagine having to evacuate my home and leave everything behind, only to come back and find that my house and all my possessions have been washed away. Yet despite this occurrence, after three days of interacting with a number of locals, it has been very humbling to see the area alive again with people—these people working to rebuild their community. As we continue through the week, I look forward to seeing what God has in store for our group as we work to help rebuild this community out of our love for Him.
In Photo: Derek Rowe '13 and Vann Hunt '13 with Pastor Washington.
Wabash Christian Men
Evan Johnson ' 13 - Panama Beach, Fla. - These last couple days have been awesome! We get up and have a morning session of worship at 10 o'clock with the 1000-plus people attending the event.
It's been powerful to see so many people worshiping and praising God. Then we have been going back to the room and grabbing something to eat. Around 1 p.m., we have been gathering together to have a quick Bible study with all 22 of us Wabash guys. After that we break up and pray together and then hit the beaches to tell people about the love of Jesus.
We have met several interesting and awesome people on the beach doing numerous things. It's just been amazing to realize that God love's and deeply cares and desires to have a personal relationship with all of these people whether or not they are truly living for Christ.
Panama City Beach is a crazy place but we are just hoping that God is using us to show love to the people down here and let them know that God loved them so much that He sent His one and only son to die for our sins so that we could have eternal life. Hope that we continue to experience God's presence down here and appreciate any prayers.
Looking back upon the past week of service in New Orleans, all there remains to do is marvel at how far we have come, individually and as a team. We set out to work on a home in the Lower Ninth Ward that belonged to one Pastor Washington, a tireless community leader who refused to let his house be worked on until the rest of his parish had roofs over their heads. Not only did he invite us into his neighborhood with open arms, we were fortunate enough to be treated to some Crescent City jambalaya and fried chicken. It was truly inspiring to see a man of his 84 years full of optimism for his community, where many in his position would understandably have chosen to look at how the rest of the country had turned their backs on them and give up hope.
New Orleans Offered a Generosity of Spirit

Tim Tan ' 14 - One of the highlights of the week was spending an evening with our local partners from Westside Christian, bonding over conversation and some great eats courtesy of our traveling chef Dr. Warner. We observed an Ash Wednesday service where we read a passage from Isaiah 58 on the true purpose of Lent. Far from being a season merely to fast and scrutinize our own salvation, we were called upon to seek out justice around us and to 'break every yoke.' It made me think that even as we try to study the etiologies of poverty in an economics class, or ponder the politics of social justice in a government class, there is still no substitute for the power of coming face to face with issues in society that seem to be discouraging and intractable.
For if being liberally educated is to mean anything, it has to compel us to seek answers to these difficult questions, and through the relationships we build, to have our knowledge transmuted into understanding.
From Katrina to Rita to the Deepwater Horizon oil spill, the people of New Orleans just can't seem to catch a break. Yet, though it may very well have been illusory, for a brief time this week there was a feeling that as a community they had finally turned a corner. As we prepared to leave, I was grateful to the city of New Orleans and the residents of the Lower Ninth Ward for their generosity of spirit, for somehow managing to make us feel like kings but at the same time just like one of their own.