Indy - Fall Creek 2012
by Josh Tatum '03

September 17, 2012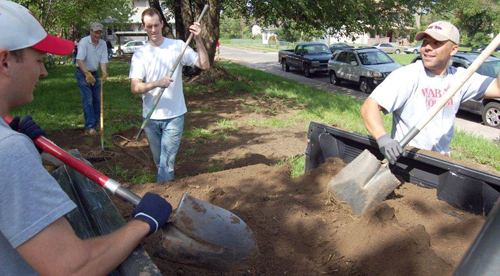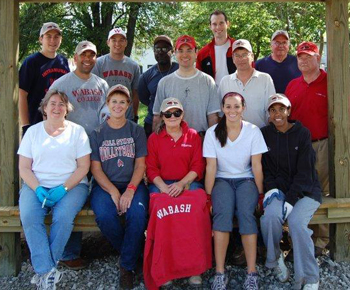 WABASH Day 2012 in Indianapolis included 15 volunteers improving a corner of the city's midnorthside for students waiting for their school buses. Seven Wabash alumni, four Wabash family members, three members of the Mapleton–Fall Creek Development Corporation staff, and a neighbor gathered Saturday morning to bring a bus stop one step closer to completion in the Mapleton – Fall Creek neighborhood.
The Wabash workers removed dirt and filled in gravel for the concrete footprint of the stop and then spread the dirt across the rest of the lot. The finished stop will feature a concrete surface, a bike rack, and a microlibrary for children's use. Mapleton–Fall Creek Development Corporation is a nonprofit that helps preserve Mapleton–Fall Creek's old homes and ensure affordable housing in the area.
According to Jackie Nytes, this is the fifth WABASH Day project helping the organization. Nytes, a former MFCDC Executive Director and current Indianapolis Public Library C.E.O., lives in the neighborhood and represented it on the Indianapolis City–County Council for twelve years. When Nytes took the reins at the Indy Library, Leigh Evans, another Mapleton–Fall Creek resident, stepped up to lead the CDC. Kelli Mirgeaux serves as MFCDC's Communications and Outreach Coordinator and coordinated the WABASH Day activities. Nytes, Evans, and Mirgeaux all helped with the bus-stop project.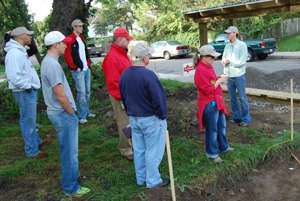 The work crew also included Eric Sarver, who grew up in the neighborhood and whose nephew is Donovan Whitney, class of 2016. The next-door neighbor who lent a hand, a gentleman named D.J., lives in a home facilitated in part by MFCDC.
Here's a complete list of the Wabash work crew:
· Rick Cavanaugh '76
· Patti Cavanaugh
· Rick Adams '74
· Scott Jones '81
· Josh Tatum '03
· Nancy Tatum
· Amy Tatum
· Nate Schrader '10
· Leigh Evans
· Kelli Mirgeaux
· Jackie Nytes
· DJ, the next-door neighbor and relative of a recent Wabash graduate