Wabash Rises in Princeton Review Rankings
by Richard Paige • January 16, 2018
Share:
Wabash College continues to rank among the nation's best when it comes to ranking the best institutions for academics, affordability, and career prospects.
The 186-year-old liberal arts institution was lauded by the Princeton Review in its annual college guide, "Colleges That Pay You Back: The 200 Schools That Give You the Best Bang for Your Tuition Buck," ranking in the top 20 nationally in four different categories.
Wabash ranked No. 18 nationally among the Top-50 Colleges That Pay You Back, an improvement of 20 places over the 2017 rankings; No. 2 in America for Best Alumni Network and Top Internship Opportunities; No. 8 in Best Career Services; and No. 19 in the Top Colleges That Pay You Back for Students With No Demonstrated Need.
"We are again pleased to be noted for the exceptional return on investment a Wabash liberal arts education provides its graduates," said Wabash College President Gregory D. Hess. "We have invested in career development and internships, and it is gratifying to see the efforts of our staff and alumni recognized with such lofty rankings. We were ranked number one for our Alumni Network last year. Trust me, we will work very hard to regain that top spot in the coming year."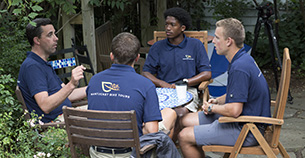 Inclusion in this publication means that Wabash ranks well inside the top five percent of 2,500 U.S.-based four-year colleges. Wabash received an overall academic rating of 96 (up two points from 2017) with scores of 97 and 99 in the two categories associated with teaching faculty availability and engagement, and a 91 in financial aid.
The Princeton Review chose schools based on return on investment (ROI) ratings it tallied for 650 schools last year. The ratings weighted 40 data points that covered everything from academics, cost, and financial aid to graduation rates, student debt, and alumni salaries, and job satisfaction. The Princeton Review editors gathered data from the company's surveys of administrators and students in 2016-17 and from PayScale.com's surveys of school alumni conducted through April 2017.
The Princeton Review and PayScale.com, give Wabash an overall ROI rating of 94. According to their data, the average Wabash graduate with only a bachelor's degree can expect an average starting salary of nearly $59,000 with a mid-career salary of more than $124,000. Those figures rise to nearly $62,000 and $136,000 with a Wabash degree and some postgraduate education.
"The alumni of Wabash College are tremendous advocates for current students," said Steven L. Jones, Dean for Professional Development. "This robust support makes Wabash a special place. The unique opportunities to connect with alumni open doors so students can explore possibilities for their life after Wabash."