Solis '18 Lands Postgraduate Fellowship
by Richard Paige • January 18, 2018
Share:
Rodolfo Solis '18 is the recipient of a fellowship from the American Political Science Association (APSA) for the 2018-19 school year.
Solis is one of 14 students nationally to be named a fellow within the competitive APSA Minority Fellowship Program (MFP), which seeks to support students from underrepresented backgrounds in pursuit of postgraduate study.
A political science major and Spanish minor with a specialization in American politics and international relations, Solis has co-authored an encyclopedia entry for a forthcoming book, Latinos in the American Political System: An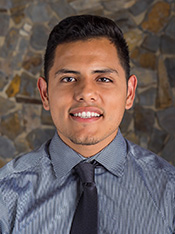 Encyclopedia of Latinos as Voters, Candidates, and Office Holders. His research focuses on the links between immigration, public opinion, and political behavior.
"I'm happy to get this opportunity because of the endorsement from the APSA," said Solis. "I would not have imagined getting into two research programs, receiving this fellowship, or publishing with my professors. I'm just working hard and hoping for the best. It's nice to know that my educators have noticed that I've put in the work, care about this field, and want to continue contributing to this field through research."
The product of Pharr, Texas, participated in a 2016 National Science Foundation-Research Experience for Undergraduates research program in Denton, Texas, and the 2017 APSA Ralph Bunche Summer Institute in Durham, N.C., an intensive five-week program designed to introduce doctoral study in the field of political science to undergraduates.
After completing both programs, Solis presented his research -- assessing the relationship between drug-trafficking organizations and migration trends -- at the Midwest Political Science Association's and APSA's 2017 annual meetings. Following graduation this spring, he plans on enrolling in a Ph.D. program in political science and, ultimately, teaching at the collegiate level.
"Rudy is already engaged in graduate-level research and professional activity," said Dr. Ethan Hollander, Associate Professor of Political Science. "This will serve him well as he pursues his studies in graduate school, working toward a Ph.D. His students will be as lucky to have Rudy as a professor as we have been to have him as a student."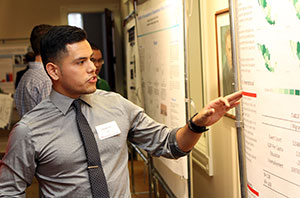 Solis earned a Gillman Scholarship and studied abroad in Valencia, Spain in the fall of 2016. He was elected president of the Unidos Por Sangre, the Wabash student organization which represents the Latino population on campus, as a sophomore. Most recently, Solis was an active participant in the Civil Rights & African American Music immersion experience through four southern states.
The MFP was established in 1969 to increase the number of under-represented scholars in the political science discipline. In that time, the program has designated more than 500 Fellows and contributed to the completion of doctoral political science programs for more than 100 individuals.