WDPD to Hold Montgomery County Zoning Talks
by Richard Paige • January 31, 2018
Share:
The Wabash Democracy & Public Discourse (WDPD) initiative is currently working with community stakeholders to organize a series of public conversations in Montgomery County on planning and zoning issues.
The WDPD Democracy Fellows—a hand-picked group of undergraduate students from Wabash College with specialized training in deliberation and facilitation—began exploring planning and zoning in late 2017. After discussions with local officials, students noted key county-level political developments, prominent media coverage, and significant public interest on the issue. Last week, WDPD chose to make the issue of planning and zoning a major project for 2018.
Montgomery County is one of the few counties in the state without comprehensive planning in place, spurring moves by county officials to pursue grant funding to conduct studies that explore economic development and land use issues.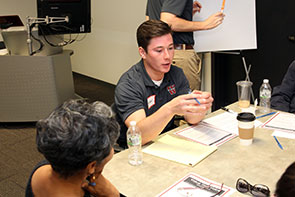 "This is a vitally important topic for the community," noted Dr. Michael Bergmaier, a visiting assistant professor of rhetoric and WDPD's Program Coordinator. "We have seen significant public interest in the issue among county residents. Through billboards, yard signs, and letters to the editor, many are indirectly engaging in the debate by speaking out on wind farms or the importance of property rights. Others are directly weighing in on planning and zoning itself."
As of January 25, an online survey by the Journal Review on county planning and zoning had resulted in more than 2,000 responses, nearly equally split between those supporting it and those opposing it.
Further, online polls by The Paper of Montgomery County in November and December generated more than 5,800 responses of its own, of which nearly 62 percent responded positively to the idea of zoning.
WDPD is tentatively planning its first public discussion in early March. WDPD's Democracy Fellows are currently conducting focus interviews with community stakeholders, including business owners, elected officials, and interest groups. In the coming weeks, they hope to reach out to more local residents interested in planning and zoning issues in order to better structure robust public discussions facilitated by the students.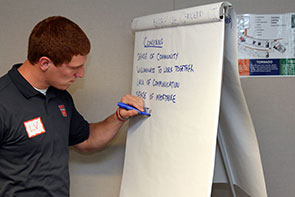 "We understand that there are competing perspectives when it comes to this important topic," noted Ben Johnson, a Senior Democracy Fellow. "While we hope that participants learn more about the complicated issues of planning and zoning, we also hope they come to understand, through their discussions, the reasons why their peers are for or against zoning. We have no agenda when it comes to policy outcomes; we simply want to allow all voices to be heard in a neutral setting."
Ultimately, WDPD will release a public report that seeks to synthesize the perspectives of Montgomery County residents on the issue. Stakeholders interested in discussing the planning and zoning project may contact WDPD staff at wdpd@wabash.edu.