An Evening With Russell Harbaugh '06
by Richard Paige • April 5, 2018
Share:
Wabash College presents noted filmmaker Russell Harbaugh '06, who will talk about his latest film, Love After Love, at 8 p.m., Thursday, April 12, in Hays Hall room 104.
Love After Love is the first feature-length film for Harbaugh, who co-wrote and directed it. He will talk about making the film and show some scenes that demonstrate how the film evolved from script to finished product.
"I'm thrilled to be given this opportunity to share scenes and stories about the making of Love After Love," Harbaugh said. "Wabash forged some central part of me and for the rest of my life I'll come home whenever I'm asked. I owe the school and community in ways I cannot easily summarize."
A native of Evansville, IN, Harbaugh was an All-American quarterback who guided the 2005 Little Giant football team to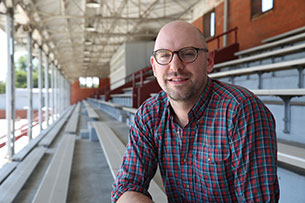 an 11-1 record. He was also an English major who made two short films while he was a student at the College – Beside Myself and Thy Loyal Sons – films that asked fundamental questions about what it means to be a Wabash man.
Following graduation, he attended film school at Columbia, and his master's thesis short film, Rolling on the Floor Laughing, was one of 30 shorts selected for the Sundance Film Festival.
Love After Love, stars Andie McDowell (Four Weddings and A Funeral, Groundhog Day) and Chris O'Dowd (Bridesmaids, The Cloverfield Paradox, Loving Vincent), and was honored at the Tribeca, Edinburgh, and Palm Springs International Film Festivals. The film opens nationally on April 13.
The event is free and open to the public