How Well Do You Really Know Jack Kellerman?
by Christina Egbert • April 6, 2018
Share:
He might be "shorter in stature," as he likes to say, but Jack Kellerman '18 has been a big man on campus for the past couple years.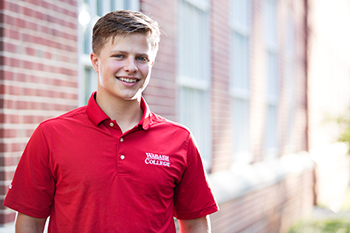 A Wabash Democracy and Public Discourse fellow. Former Student Body President (after his vice presidency). There was a time, even to his closest friends, that Jack just seemed to be everywhere doing everything.
It was during that time that Brady Quackenbush '18, Jack's pledge brother, changed his Twitter bio to simply: "I know Jack Kellerman!"
"He was so busy that I wanted to see how long it would take him to notice," Brady laughs. "It took three months."
For many on campus, Jack is someone who takes himself way too seriously at times and can send some really long, thorough emails.
"I wish people knew that I don't take myself as seriously inside," he says. "I do like to have fun."
Brady Quackenbush might be a few steps ahead of us, but we decided we needed to really get to know Jack Kellerman. Here's what we learned:
He once ate 92 pieces of sushi with his dad.
"It was at an all-you-can-eat sushi place pretty close to my house, and we haven't had sushi together since. I didn't think you could get full on sushi until that day!"
He's a member of the Malcolm X Institute.
"I went to high school with people from all walks of life. The demographics were always changing, very different. I saw diversity not in just racial and ethnic backgrounds but also in socioeconomics, religion, etc. The transition to Wabash made me realize how much of an impact that had on me – how I talked, the word choices I made. I realized I actually grew up in a really interesting area with its own kind of dialect.
"At the MXI, a lot of those people were who I shared the most connections with. I felt more at home there because I felt like we had more connections to how we spoke, the music we listened to…I don't know…the small interactions we had just felt more normal to me."
He has a scar on his arm from working at Noodles & Company.
"I actually have a few burn scars from Noodles & Company! Working in the food industry is a dangerous job.
"But it was a worthwhile experience to learn how to communicate with people even if you're having a stressful day. You still have to have that 'Hey, how are you?!' mentality even though everything's burning."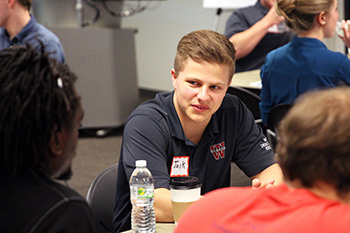 His favorite music is rap.
"Especially 90s rap. B.I.G. and Tupac are awesome. And J. Cole and Kendrick Lamar, I have a hard time picking one over the other, but I think those two are great."
His first passion in life was football.
"In middle school, I was probably the shortest on the team, but I was the outside linebacker. If you've ever seen the movie Rudy, I was kind of like that guy – all spirit, all heart. But I wasn't the best football player."
He dislocated his knee for the first time in sixth grade.
"I was playing Red Rover! But it kept happening again and again. In football, during a pileup, my knee would give out. In high school baseball, the last play I was ever in was a do-or-die getting to home plate situation. I was wearing a knee brace, but it gave out again.
"The doctor asked if I wanted to be able to walk 50 years from now or if I wanted to play sports for a couple more. I decided I wanted to walk."
That's when he fell in love with theatre.
"One of my biggest regrets is actually not doing more theatre productions. In high school, I was drama club president, so I did all the plays and musicals. That's one of the things I don't think a lot of people know about me. If I could do Wabash again, I'd think about picking up theatre as a minor. But that's a good life lesson ­– sometimes you have to specifically build in time for the things you love.
"My dream role would be Alexander Hamilton in Hamilton. He's just a really complex figure. He's somebody who is eager to make a change, eager to rise above. Everything he did was truly incredible. He was one of those guys who was shorter in stature, had a lot to say, and he was probably criticized for how seriously he took himself. So I have some things to learn from him."
One of his favorite moments at Wabash came just a few weeks ago.
"It was St. Patrick's Day, and we could've gone out, but we stayed at the Beta house. We played songs we grew up with from middle school to college, sprinkled in some Queen, and we sang for what felt like eight hours. It was a great time. Nobody was judging. Everybody was dancing. It was definitely a sight to see!
"If people are laughing at me dancing, I think that makes it even better! It's one of those moments you have to enjoy because moments go quickly. I dance because it's important to dance when I can."
Jack Kellerman will be teaching either math or science in an Indianapolis middle school after graduation as part of Teach for America.