Cochran '18 Lives Out the Spirit of Wabash
by Christina Egbert • May 17, 2018
Share:
"The true spirit and purpose of Wabash College."
That's what Dean of Students Mike Raters '85 and Dean of the College Scott Feller look for when they choose the recipient for the Frank H. Sparks Award for All-Around Student Achievement.
What does true spirit and purpose look like?
Two words: Cody Cochran.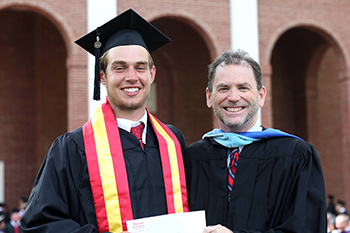 "I couldn't think of a better candidate for this award in terms of what you think of the ideal Wabash student," Professor of Physics Dennis Krause said. "He excels in everything!"
When considering students for the award, the deans look at general attitude, participation in extracurricular activities and athletics, scholarship, and personal achievement.
"It has to be a student who puts all of those things together," Raters said. "We had several this year, but when I announced his name at the Senior Breakfast, the applause showed that we got it right."
However, Cody wasn't there to hear the applause echoing throughout Knowling Fieldhouse the day before Commencement.
He was in Chillicothe, Ohio, where he pitched the Wabash baseball team into their first conference tournament championship game since 2011 the night before. It was the pitcher's seventh win of a record-breaking season.
"He's so nonchalant about everything," Krause said. "You might not even know he's on the baseball team because he doesn't talk about it."
It's hard to imagine a student who has been a great fit for the College almost decided not to attend.
"When it came time for me to pick a college," Cody said, "I was thinking engineering, but I wasn't exactly sure. For a while, I was leaning toward Purdue."
His father, Chris Cochran '90, tried to stay neutral during this time out of fairness to his son, so friends and other alumni stepped in and told him Wabash would be a better fit.
"I was trying to figure out whether they were just saying those things to get me to go here," Cody said. "But after talking to enough people, I realized this was the real deal.
"Because of my uncertainty, I knew Wabash would help me figure out what I wanted, or at least give me a general idea. I also knew it would give me a bunch of tools that, if you did change your mind, it wouldn't be a big deal."
He decided to m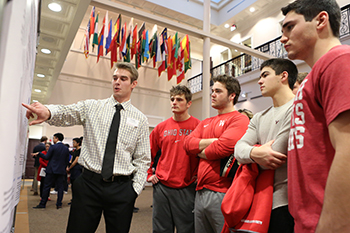 ajor in physics because he was pretty good at the subject in high school and he figured it was the closest to engineering.
The more physics classes he took, the more he realized he wasn't just good at physics – he liked it.
"That was the first time I felt like I was taking classes to learn as opposed to just getting a good grade."
Cody will head to Notre Dame in August to start a doctoral program in Aerospace and Mechanical Engineering. His focus will be computational physics – a field that utilizes a lot of computer science, which he had never thought about taking until his junior year.
"My interests fit perfectly with what the program was needing for a spot that opened up," Cody said, "so I sort of got lucky. I'm not upset about it though!"
"I'm really thrilled he's going to Notre Dame for graduate school," Krause said. "What he'll be doing is right up his alley, so I had no doubt that he was going to get into their program."
Even though Professor of Physics James Brown said Cody was always focused on his own academics, he made time to be a physics tutor for the Quantitative Skills Center (QSC).
"He was always willing to help other students when they were struggling," Brown said. "He's one of the best student-leaders among his class."
From a young age, Cody learned that encouraging and being there for others is part of the Wabash way.
His dad, a former Little Giant football player, would often bring Cody to Monon Bell games. Thinking back to all of those times in the stands, Cody remembers wanting to be one of those guys doing flips and pushups on the sidelines, cheering on their friends.
"When I finally got to Wabash," Cody said, "I saw what the Sphinx Club was really about – bringing the campus closer together.
"My favorite experiences have been when everybody's come together … I've played more Euchre than I would care to admit," he said with a laugh.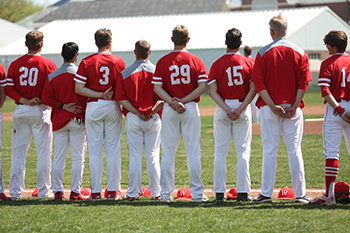 Even though it's become a major part of his college career, especially this year, playing baseball at Wabash never crossed Cody's mind.
"I was injured the majority of the time in high school, but then I got something in the mail asking me to come check out the baseball team. I was planning on coming to Wabash anyway. That was a cherry on top."
"The cherry on top is mutual," Raters said. "That's part of what we look for in the student we choose for the Sparks award: has he benefitted from the Wabash experience and has the College benefitted from him being here?
"And Cody has a lot of King Midas to him – everything he touches gets better. The baseball team got better when he decided to give it a shot. His fraternity is better. The College is better. And I'm sure he'll make his program at Notre Dame better. That's just who he is."
Just a few days before his Commencement, Cody had a hard time imagining leaving campus. In fact, he said he was "dreading" leaving a place where he knows "just about everybody."
Fortunately, he didn't have to leave so quickly.
He will continue to help lead the Wabash baseball team, as their victory last Saturday clinched a spot in the NCAA Division III Mideast Regional, which begins today.