'Now That's a Man'
by Christina Egbert • May 24, 2018
Share:
Ra'Shawn Jones '20 gets down in the blocks.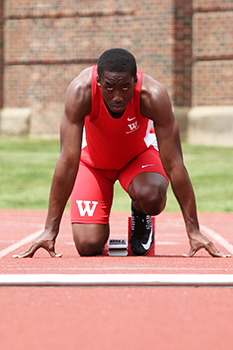 He stares down at the track.
As he lifts his gaze, the look in his eyes can be intimidating from a distance.
It's not just intensity. It's fire. Maybe even a little bit of rage.
"I look right at the middle of the first hurdle, and I see all of them," Jones said. "I imagine running through it – just getting through it – and finishing it out."
It wasn't that long ago that clearing a hurdle was practically impossible for him. His hips were almost a foot lower than the hurdles.
But he kept growing. So he kept trying.
"It was something I wanted to be good at," he said. "I had the ability."
On Friday Jones, now at 6'4", will be running the 110-meter hurdles at the 2018 NCAA Division III Outdoor Track and Field Championships.
"I think he can be an All-American if he keeps the chip on his shoulder all the way through," Head Track and Field Coach Clyde Morgan said.
Jones doesn't give up when it gets hard. He never has.
Not when he grew up rarely seeing his father.
Not when his family didn't know where their next meal was going to come from.
Not when his family didn't know where they were going to live.
And no matter how fast this runner gets, he will never leave the people he loves behind.
***********************
"From a young age," Jones said, "my mom would tell me, 'You're the man of the house.' At first, I'd be playin' and say, 'I know I'm the man of the house.' But then I realized I really had to grow up."
It was his sophomore year of high school. His family had just been evicted from their apartment, leaving his mother, older sister, and him with no place to go.
There were nights spent in a motel room. There were nights spent in their car.
"At first, it pushed us away from each other. Money is one of those things…I don't even know how to explain it. When there are so many struggles, people are dealing with their own personal struggles and the struggles of living situations, you kinda get agitated with everything going on."
Only those closest to Jones knew about his family's situation, but they were few and far between.
"Situations like that make you retract back into yourself. I guess so you don't get hurt. I would try to be funny and laugh around people so they wouldn't think, 'Oh, he's homeless' or 'He's struggling.' I just didn't want people to know."
At school, Jones quickly ducked out of conversations that included the question, 'Do you want to come over to my house?' He was afraid of where that would lead.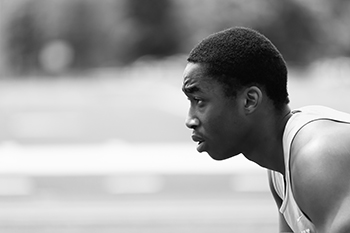 "When I filled out my SAT my junior year, I had to put the last address that I lived at. But I wasn't living anywhere."
The day he turned 16, he got a job at Waffle House.
"When your mom is asking for money from your job to pay rent, it's like, 'Alright. I got you.'"
And through it all, Jones was still mad if he brought home a C.
"One of the reasons I tried to keep my grades up was because you can be a good athlete, but if you don't have the grades, you won't get in to good colleges."
He received offers from Division I schools. None of them were full-rides, though, so none of them were offers he could accept.
That's when Clyde Morgan called.
***********************
"The first time Coach Morgan called me, we were on the phone for two and a half hours," Jones said. "I was like, 'Dang. This dude is actually caring about me. He's not a college coach who's trying to get me onto campus but will forget about me if I can't live up to what he wants me to do.'"
"In my 18 years of recruiting for track, I've done that with about 10 kids," Morgan said. "With Ra'Shawn, I remember that we didn't discuss track until the last 20 minutes. It was long, but it didn't feel that way."
Jones was featured on a recruiting website, and Morgan remembers that he had "some awful form."
But the more Morgan found out about Jones, the more he liked him.
"Some people run away from kids like Ra'Shawn. I run toward them," Morgan said. "I just thought he needed me, and he needed Wabash. So I rolled the dice.
"I was a young kid from inner-city Youngstown, Ohio, and when people found out I had a son on the way, they backed away. They didn't give me a chance. And then here comes my old coach Bill Ross. He didn't run away. He ran toward me. If it wasn't for him, I wouldn't have made it through college."
All Morgan asked Jones for was one visit. That was it.
That was all it took.
"I started thinking about my future," Jones said. "With hurdles, I thought I was going to get to college and plateau. I didn't know I was going to keep getting better – I definitely wanted to. So I told myself, 'I'm going to try this Wabash thing. If it doesn't work out, I'll still have a way to get a good job.'"
His first year came with a lot of ups and downs. It came with a few tears.
But Morgan was there every time.
"He's probably the only person I could look up to like a father," Jones said. "It would be nice to come close to being someone like him.
"He does a lot of things with his family that I would like to do, and he lets people know he cares for them. He's understanding, but he'll get on you whenever he needs to. He's not going to let you slip through. He's not going to let you be mediocre."
***********************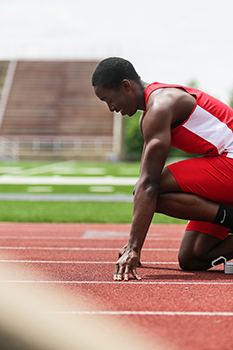 Jones' Twitter handle is @silent_goof.
He said he changed it one time, but those two words describe him perfectly.
In class, the religion major thinks a lot, but he doesn't say much.
"He's soft-spoken at first but then gregarious once you get to know him a little bit," Professor of Religion Derek Nelson said. "He's driven and he's grown a lot in two years – perhaps more than any other student I can think of.
"And he listens better than most students. You get the sense that most students are waiting until it's their turn to talk again. But if I put him on the spot, I can tell that he's been listening really carefully. He often disagrees with his classmates. He's just not willing to volunteer it too often."
Then there's the side of Jones that lets loose at practice.
Morgan runs a tight ship, so there's no time for a runner not to be on top of his game. But Jones has made him take a step back.
"I've had to stop myself and go, 'That's OK,'" Morgan said. "He's had to grow up a lot quicker than a lot of our other guys. He's allowed to be a little goofy right now.
"But then there are times when I'll look at him and go, 'Now that's a man.'"
One of those times came the night of the track and field awards banquet.
Jones received the titles of Most Improved Player as well as Most Valuable Player, but he wasn't there to accept them.
"He went home and watched his niece for his sister," Morgan said. "After a long weekend at our conference meet, after a long bus ride, he got back at two in the morning and then jumped up Sunday morning to drive to Indianapolis. That's Ra'Shawn."
His niece, La'Riyah, is almost 18 months old. Her birthday is December 25.
"I remember going to the hospital on Christmas Eve and my sister saying, 'I'm about to have this baby,'" Jones said. "She went through the night, had the baby the next morning, and all I could think was, This is the best Christmas gift she could ever have."
He doesn't get to go home very often, but when he does, his niece is one of the first people he wants to see.
"When I went home for Christmas Break, she was sick. Every time I went into her room, she was either asleep or gone at daycare. So I came back mad because I was there and didn't even get to see her. She's not going to be a baby forever, so I'm not going to get this chance a lot."
He says he doesn't want to spoil her, but the dozens upon dozens of pictures on his phone say otherwise.
"I have no idea what I want to do once I graduate. I just want to make it to where my family doesn't worry about where a meal is coming from anymore. I don't want to worry about rent. I just want to take that out of the equation and see how we could live then. Just have a comfortable life."
"That lets you know what he's gone through," Morgan said. "That is enough for him. He knows that when he gets that diploma and graduates, that will change his family's life. And I relate to that. That was me. When you grow up rough, that degree is like earning a lottery ticket. It really changes things. That's what he's about – he wants to help his family."
***********************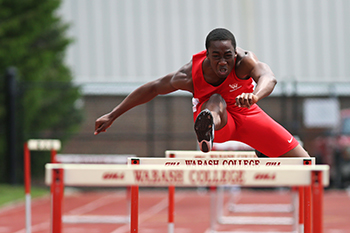 Jones' mom used to tell him to treat life like a race. "Just get over the hurdles and you'll be fine," she'd say.
He's done it well so far, but the rising junior isn't stopping any time soon.
"The sky's the limit for Ra'Shawn," Nelson said. "I think he's really hitting his stride, so to speak."
But Jones also slows down when he needs to. He's making sure he enjoys every moment here because it's the most stability he's had in a long time.
"I think of Wabash as home. It's a place where I can be myself. And I'm accepted for it."