Class of 2022 Welcomed into Wabash Family
by Christina Egbert • August 18, 2018
Share:
Sitting in the balcony of Pioneer Chapel, 284 men heard the echoes of tradition Saturday as Wabash College held its annual "Ringing In" ceremony.
Using the hand bell that o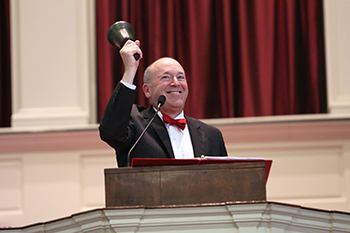 nce belonged to Wabash's first educator, Caleb Mills, President Gregory D. Hess rang in the largest incoming class since 2011.
Associate Dean for Enrollment and Director of Admissions Chip Timmons '96 and his staff have worked diligently to increase the size of the College's incoming class, but as he looked up at the balcony Saturday and remembered what this day was like for him as a freshman, he wasn't thinking about the numbers.
"The most satisfying part is knowing we helped these students make a decision that will set them on course to achieve their dreams," Timmons said. "I think every alumnus feels an obligation to do what he can to help strengthen the College, and I have the opportunity and privilege to do that every day."
As he greeted the Class of 2022 from the stage Saturday, Timmons didn't speak to them just as new students – he welcomed them into his Wabash family.
"When I was young, my mom told me, 'You can choose your friends, but you can't choose your family," Timmons said. "But I now have to say, and with my mom watching, she was wrong. You can choose your family."
The students joining the Wabash family come from 21 states and 10 countries. There are 21 freshmen who held the title of president of a class, club, or organization in high school, 14 Eagle Scouts, and three Special Olympics coaches, among many other accomplishments.
Rob Shook '83, president of the National Association of Wabash Men, echoed Timmons' sentiments of brotherhood when he addressed the class Saturday.
"Take a good look around, gentlemen," Shook said. "You are looking at men with whom you will compete, argue, grow, study, travel… You are looking at men who will be part of your life for the rest of your life. You should remember when and where you met."
Also included in the family are the Wabash faculty and staff, said Dean of Students Mike Raters '85. They will challenge students, but their goal is to empower them.
"We will be here to support you, push you, educate you — in the classroom and out," Raters said. "We will all urge you to work harder, strive further, and reach higher than you may think you can right now. We likely have seen — or will see — in you more than you see in yourself, and we'll do all we can to guide you to maximize that potential."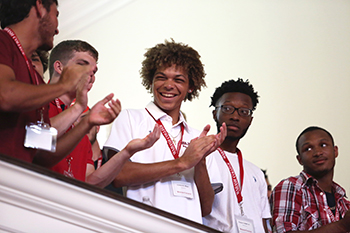 Before reaching for the Caleb Mills bell, President Hess asked the 284 men sitting in the balcony to stand and introduce themselves to their classmates.
"These are the men who will become some of your greatest teachers, life-long friends, business partners, the best men at your weddings, and your strength in times of joy and need.
"You will not enjoy college by yourself," Hess said. "Make friends — find your brothers who can go along with you on this exceptional journey that is Wabash."