Cancer Treatment Centers of America to Sponsor the 125th Monon Bell Classic
• September 27, 2018
Share:
Wabash College and DePauw University are excited to announce that Cancer Treatment Centers of America® (CTCA) and Mr. Richard and Dr. Stacie Stephenson will be the presenting sponsors of the 125th Monon Bell Classic on Nov. 10, 2018. The historic football rivalry will be televised live from Crawfordsville on Fox Sports Midwest beginning at 1 p.m. EST.
"This partnership brings together three great organizations and we are proud to welcome Cancer Treatment Centers of America to the best college football rivalry in the land," said Wabash President Gregory D. Hess.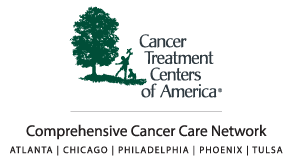 "DePauw and Wabash have partnered to present our alumni and friends a national telecast of the game for four decades," said DePauw President Mark McCoy. "We are honored to join with Cancer Treatment Centers of America to lift up our great institutions through this historic rivalry and celebrate those brave individuals who are fighting and beating cancer."
Wabash and DePauw first met on the gridiron in 1890 and have played continuously since 1911. In 1932, the Monon Railroad, also known as the Chicago, Indianapolis and Louisville Railway, donated a 300-pound locomotive bell to the winner of the widely celebrated matchup.
"The students of Wabash and DePauw, two of the nation's leading liberal arts colleges, are changing the world, and I am proud to be counted among Wabash's distinguished alumni," said Richard J Stephenson (Wabash College Class of '62), founder and chairman of CTCA®. "Just as our victorious patients ring a bell after completing treatment at Cancer Treatment Centers of America, so will the victor of the Monon Bell Classic. We are honored to be part of this historic event."
CTCA was founded by Mr. Stephenson in 1988 following the death of his mother, Mary, a DePauw University graduate, who lost a long fight with bladder cancer. Stephenson vowed to change the face of cancer and, as a result, CTCA uses a personalized, patient-centered approach to cancer care, dedicated to tailoring a combination of precision cancer treatments and supportive therapies to address the needs of each patient.
"We identified extraordinary parallels when forming this partnership," said President Hess. "CTCA's integrative approach to treating cancer is similar to our schools' holistic approach to liberal arts education. And when we discovered that CTCA patients — surrounded by their entire care team — ring a bell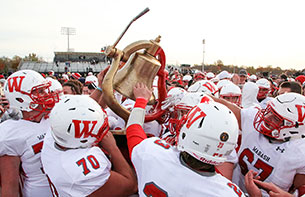 when they complete treatment, we saw a natural fit with the pride DePauw and Wabash take when winning and ringing the Monon Bell."
The two schools will host CTCA Cancer Fighters at the game, survivors committed to helping others, who will have an opportunity to ring the storied Monon Bell at halftime along with Tom Runge, former Wabash director of alumni affairs and retired USAF colonel, himself a cancer survivor. The promotional theme created for the game recognizes the remarkable achievements of both Wabash and CTCA in their respective disciplines and their shared pursuit of victory: "Two Giants. One Fight."
Cancer Treatment Centers of America is a comprehensive cancer care network of hospitals and outpatient care centers in Atlanta, Chicago, Philadelphia, Phoenix, and Tulsa.