Wabash Theater Takes on Frankenstein
by Jim Amidon • October 2, 2018
Share:
Theater professor Jim Cherry read Nick Dear's play, Frankenstein, when it opened to rave reviews in London in 2011. For the next five years, he dutifully applied for the rights to bring the play to Wabash with no luck. When a planned Broadway production fell through, the rights became available and Cherry snapped them up for Wabash.
Dear's play tells the Frankenstein story from the perspective of the creature, and like Mary Shelley's novel, the play raises timeless themes.
"We've approached this production like an open text to be interpreted by the audience," Cherry said.
The play will be performed October 4-6 and 18-20 at 8:00 p.m. in Ball Theater. Tickets are free, but must be reserved through the box office (https://www.wabash.edu/boxoffice).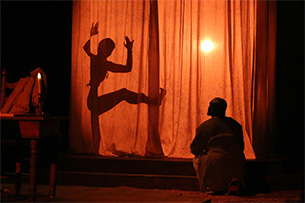 The story picks up after Victor Frankenstein (played by senior Will Maloney), unable to build and sustain relationships with his fiancé, Elizabeth (Maggie Terry), or his father (José Martinez), reanimates a collection of body parts to form the Creature.
Dear, the playwright, pairs down Shelley's novel to focus on the Creature telling Victor what it's like to be him — frightened and cast out into a friendless world and longing for human connection.
Senior Tim Fields, whose injuries forced him to retire as a starting defensive lineman on the Wabash football team, plays the Creature in his second performance on the Wabash stage. Cherry says his natural athleticism leads to a remarkable performance.
"His physicality is unbelievable," Cherry said. "Tim is incredibly strong and agile, and understands his body in space. When you ask him to do something and he does it perfectly the first time. And then when you tweak the scene, and he gets it just right. He absorbs all of the direction."
Fields is on the stage for almost the entirety of the play, which is performed without an intermission. Adding to the challenge for Fields and the other actors is the fact that the play will be performed on the Ball Theater stage with the audience surrounding the performance space. Cherry said that he and scene designer Bridgette Dreher imagined all kinds of configurations, but chose to create a tiny, intimate space that places the audience close to and surrounding the actors. The result is powerful.
"Most college actors don't have experience working in this really up-close and personal stage environment," Cherry said. "As a performer in this setting, you have to be very much aware of where you are on stage and completely engaged all the time. You are performing right on top of the audience; they are right there. In a large, proscenium theater, a lot of the subtle details of a performance get lost. This configuration, because of the intimacy, provides a level of detail for the actors and the audience that we are really excited about."
Maloney, a senior, returns to the stage with a powerful performance as Victor Frankenstein. Cherry said that he's perfect for the role. "There's a real sense of brokenness in Victor; like there is something missing in his life that leads him to do the things that he does. Will has been able to tap into the psychological deficit Victor is dealing with. He's awesome in the role."
Shelley's novel is a study of the liberal arts. Cherry and his creative team have approached the play in a similar fashion. Sam Stephenson composed original music for the production, and Glee Club Director Reed Spencer spent time with the cast, too, "teaching us how to sing rousing drinking songs," Cherry quipped. Derek Mong taught an intense session on Milton's Paradise Lost. And the cast includes two of the College's language interns, Pia Schübel and José Martinez.
"This play works in the same way the novel does — because you can get into the story from any number of angles," Cherry said. "You can approach it from an angle of technology and science, or gender and relationships between men and women. Or you can say this is a story about motherhood, fatherhood, and parenting, or even colonialism. It's a great play because you can look at it through so many critical lenses and get something meaningful out of it.
The play features debut performances by four Wabash freshmen (Dakota Baker, Latham Davies, Ace Dzurovcik, and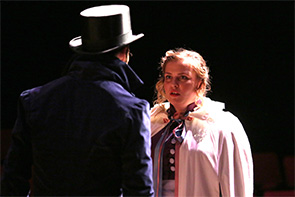 Benny Wang); includes a pair of DePauw students (Maggie Terry and Betsy Swift); and features veteran performer Brea Carlson and her son, Anders, who plays Victor's younger brother.
Cherry said junior Ian Little is terrific as the blind cottager who teaches the Creature about how humanity works. "Ian is like an old soul; he comes off as appropriately ancient and also really sensitive as a kind, old man," Cherry said.
Cherry dubbed this a "must see" show at Wabash. The production benefits from Andrea Bear's incredible talents as a costumer, mask-maker, and make-up artist, and from an Indiana Humanities Council grant. "We have been experimenting with the prosthetics for months, and what Andrea has created is amazing. Because the audience is right on top of the actors, the prosthetics have to be great," Cherry added.
Because of the intimate setting, there are fewer than 100 seats. Cherry opted to run the show over two weekends — before and after fall break on the Wabash campus. And he's opened dress rehearsals on October 3, 9, and 17 to audiences. "We want as many people as possible to have this experience, so we're effectively performing the play nine times," Cherry said. Please contact the Box Office directly if you wish to attend a dress rehearsal.
For intense scenes, the production is best suited for audiences over 13 years old.
Production dates are October 4-6 and 18-20 on Ball Theater's stage at 8:00 p.m. each evening. Tickets may be reserved online (https://www.wabash.edu/boxoffice/). Audiences are invited to open dress rehearsals on October 3, 9, and 17 beginning at 8:00 p.m. – please call the Box Office directly for dress rehearsal seating information (765-361-6411).
The cast of Frankenstein at Wabash College includes: Tim Fields (Creature); Will Maloney (Victor Frankenstein); Pia Schübel as Gretel; Dakota Baker (Client/Servant/Ensemble); Latham Davies (Sutav/Rab/Ensemble); Ace Dzurovcik (Klaus/Constable/Ensemble); Ian Little (De Lacey); John Wallace (Felix); Betsy Swift (Agatha); Isabella de Assis-Wilson (Female Creature); Maggie Terry (Elizabeth Lavenza); Brea Carlson (Clarice); Anders Carlson (William Frankenstein); José Martinez (Monsieur Frankenstein); Teague Meiers (Ewan/Ensemble); and Benny Wang (Servant/Ensemble).
Directed by Jim Cherry with Costume Design by Andrea Bear; Scenic Design by Bridgette Dreher; Lighting Design by Tony Stoeri; Sound Design by Tim Melville; Stage Combat Choreography by Rob Johansen; Music Coaching by Reed Spencer; Wedding Song Composition by Sam Stephenson.
Walker Fisher is the Stage Manager with assistance from Danny Cuevas.
More News
---
---
Photo Galleries

Wabash College Theater Production of Frankenstein - 2

Wabash College Theater Production of Frankenstein - 1