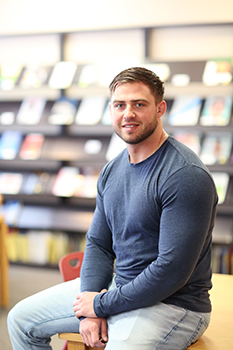 Sheldon Slusser came to Wabash from his family farm in Logansport, Indiana. Five years, a deployment to Afghanistan, and an award-winning thesis later, he's finishing his college career this summer in Paris.
The call from the United States Marine Corps Reserve came in January 2017—right in the middle of his junior year.
"It was actually really surprising," Slusser said. "But I saw it as fortunate that I got to go, though. If I didn't, I feel like I wouldn't have been worthy of veteran status, and I think a lot of Marines would say that. It's just a pride thing."
Slusser's assignments in Afghanistan mostly involved serving as personal security detail for top military officials. He would check under vehicles for IEDs and keep watch while U.S. colonels and generals were in meetings with Afghan officials.
"When you first get there, you're on edge about everything. But over time, you just get used to it. That's why they limit you to seven months—it becomes your everyday reality."
After his tour, Slusser and his unit were sent to Kuwait for a two-week decompression period. From there, they went to Germany and then to Camp Lejeune in North Carolina.
It was this reintroduction into American society that became the topic of the senior thesis paper for which Slusser recently won the Theodore G. Gronert award for excellence in the study of history and government.
In a 57-page paper (Professor of History Stephen Morillo only asked for 40), he detailed his own unit's "coming home" experiences and compared them to the experiences of Vietnam veterans.
"I had an interview with Dr. Herzog, and he said he was back on Purdue's campus within 48 hours of leaving Vietnam," Slusser said. "That's just crazy.
"I thought my transition was easy. However, we have had had two or three suicides just from our unit—one was just a couple of weeks ago. It's different for everyone."
Morillo hopes part of what helped Slusser readjust was coming back to Wabash.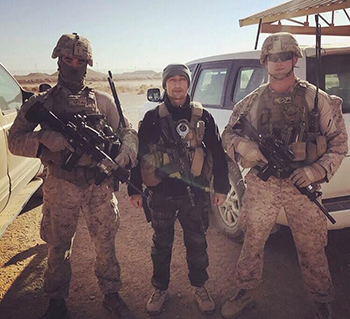 "Coming home from war is tough enough," Morillo said. "It can be such an intense experience that anything else seems meaningless, and he needed that home base to operate from. And I'm glad he did. His story kind of felt unfinished to me until he came back."
"At Wabash, I know they care," Slusser said. "It feels like a family."
Slusser was supposed to graduate with the Class of 2018. By the time he came back, most of his friends were gone—but a lot of people knew who he was.
"At first I felt like a celebrity," he laughed. "It was like, 'Have you seen the Marine on campus?'"
He'll talk about his time overseas if he's asked, including sharing his story with one of Assistant Professor Sabrina Thomas' history classes.
During the discussion, one of the students asked, "Do you think we're winning?"
"That was a really hard question to answer," Slusser said. "I had such a small role, and I definitely don't have enough rank to worry about the overall picture. But there are a lot of small victories inside of the big picture. It was a win to me, when I was on personal security detail with the colonel, if I came back to base and he was alive."
Slusser even took the time to read a book Thomas' students had read to prepare for the discussion.
The book, The Yellow Birds, is a fictional depiction of a U.S. soldier's experience in Afghanistan and the PTSD suffered upon return, and Slusser talked with the students about how the main themes of the book related to his personal experiences.
"He was very open and honest, and the students really enjoyed hearing his insights," Thomas said. "Some of them even said his visit was one of the highlights of the course."
Sluss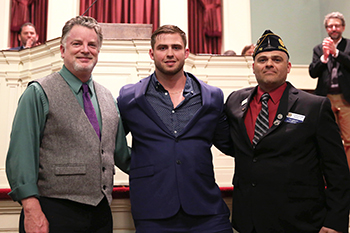 er laughed when he said he now feels like a primary source for history classes and projects, but, according to Morillo, that's what made his senior thesis "superb."
"It was a really satisfying combination of objective analysis but with his own voice and his own experience built in there. It was like a scholar with an informed perspective. As a teacher, that's what you're always looking for—to help someone along the path of growth personally, academically, and Sheldon's really gratifying to do that for."
Saturday, May 18, was Slusser's last day in the Marine Corps. He will be using his GI Bill to finish his final Wabash credit at an American-funded school in Paris while he waits to hear back regarding his applications to the United States Border Patrol and the United States Secret Service.
"I can imagine him coming up with policy papers on how to improve whatever position he ends up with," Morillo said. "Maybe it will be something about fitting security into cultural settings—that's something he would be good at.
"Coming from a freshman who wasn't sure what he wanted to major in to being an award-winning history student is quite a trip. I'm really proud of him."
"Now that I'm getting my degree, I'm hungry for more," Slusser said. "This is just the start of a brand new chapter in my life."