A year ago, Zach McKinney '22 was an incoming freshman trying to decide what classes to take. That decision helped him discover an interest in curating art.
One of those classes – Special Topics in Museum Studies – appealed to McKinney because it focused on the work of Louis Orr (1876-1966), a noted American printmaker. McKinney had done some print making of his own in high school.
"I took the class because of my connection to print making," McKinney said. "It was a museum studies course with Dr. (Elizabeth) Morton. That's what got me interested."
As part of the course, Morton had her students curate an exhibit of Orr's work, "Journey in France: Capturing Humankind's Magnificent Creations" for display in the Fine Arts Center. It sparked a new kind of interest for the Crawfordsville native.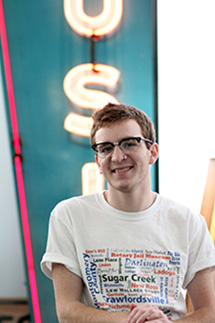 McKinney took a liking to curation enjoyed the process of learning more about each individual piece. He also enjoyed the idea of connecting to an audience by weaving a story throughout the art and artifacts presented.
The hands-experience of bringing Orr's work to the public resonated with McKinney and his classmates. It was more than simply hanging something on a wall.
"From a curation standpoint, one thing that helps is having an idea of what looks good together and what flows for the audience," he said. "We had to make sure that what the audience saw was interesting and that it popped. Knowing what is pleasing for people to look at is helpful."
A year later, McKinney finds himself interning at the Carnegie Museum of Montgomery County, where his skills are once again on public display. His focus is on collections and curation, meaning he will redesign several exhibits. His internship was one of 23 summer internship funded by the Michael Dill Internship Fund at Wabash College.
According to McKinney, the best part of the summer has been the proof that he still enjoys curation.
"I really do enjoy this," he said. "I am using this to test the waters and it has encouraged me to continue looking for internships next summer, perhaps at an art museum."
McKinney enjoys the idea that there might be people out there who appreciate his work and the way he presents the Carnegie's artifacts. He's also enjoying the challenge of diving a little deeper into some local history and sharing it with the public.
"I am really looking forward to that," McKinney said. "Being able to redesign these exhibits and swap out artifacts for new ones is a great opportunity. It's been a lot of fun to dive into the history behind all of them. It's been a great summer."