Champ
• May 12, 2005
Share: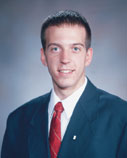 That nickname tells you a lot about how Ryan Champion's friends felt about the Wabash sophomore, who was killed October 29 when another vehicle veered into Champion's car on U.S. 231.
Champion's Beta Theta Pi fraternity brothers called the campus community together for a service honoring the biology/pre-med major. The Senior Bench was covered with messages and photographs in memory of a student who "had a talent for making memories for those around him."
Theater professor Jim Fisher, who directed Champion in the fall production of 1776, praised Champion's "generosity of spirit."
"He wanted to do his part well, but he was more concerned about the entire production. I think that's rare. Many people do plays to stand out above everyone else. Ryan wanted everyone to stand out together."
Read a remembrance of Ryan Champion