Cornell Returns a Favor
• May 16, 2005
Share: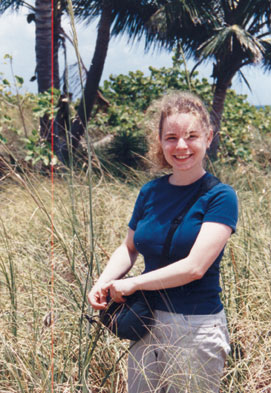 In the early 1900s, 10 students of Wabash biology professor Mason B. Thomas, the College's top botanist, continued their education at Cornell University and stayed on to become the core of that institution's botany department.
More than 100 years later, Cornell is finally giving back!
Assistant professor Amanda Ingram, who earned her Ph.D. from Cornell in 2003, joined the Wabash faculty last fall. Her studies have taken her from Costa Rica to Ethiopia, and her research offers Wabash students tremendous opportunities for field research.
WM spoke with Professor Ingram after her first semester at Wabash and following her colloquium presentation, "What's lovegrass got to do with it?"
What's lovegrass got to do with you?
In graduate school I was looking for a project that would allow me to examine the evolutionary relationship of some economically important plant to its wild relative; I needed a plant group that hadn't been studied much.
I happened upon this Ethiopian field crop called teff [one species of a widespread group of grasses called eragrostis, or lovegrass]. No one was looking closely at its evolutionary history. Doing so has given me a nice source of projects that could keep me busy throughout my career with many possibilities for students.
Do those projects have a particular focus?
I was especially interested in a common phenomenon in plants called polyploidy, which simply means they have extra chromosomes. If humans have one extra chromosome, we can have problems-Down's syndrome, for example. But plants often cope with this easily. We get bigger plants, or more vigorous plants-or sometimes we get less vigorous plants.
We're just beginning to look how this affects the ways genes are interacting within the cells of these plants, and we're beginning to gain some insights into what's going on.
What does this research mean for our students?
Students may work with me on basic taxonomic work, which could involve lots of fieldwork, or they can investigate more genetic phenomenon, if that's the sort of thing they're interested in.
This semester, Tony Giaquinta '05 is sequencing genes, helping me with my investigations into eragrostis.
Will they be traveling?
I hope so. I'll need to take field trips to Australia and Southern Africa, where the greatest diversity of my plant exists. More immediately, I'm going to Ecuador with the faculty this spring to scout out the possibilities of doing a field course there. I've been on the student end of trips of the sort I'm envisioning-when I was a student at William and Mary. It opened my eyes to the incredible diversity that we never see in temperate areas.
Fieldwork is very important to me as researcher and as a teacher. Students need to get a taste of fieldwork early. It's a great way to get them excited about what they'll learn in the classroom, and it gives them some context for what they learn later.