Just what one does
• May 17, 2005
Share:
Students would be hard-pressed to find a better role model than Larry Frye for learning to lead effectively and live humanely. They'd be equally hard-pressed to find more of a klutz when it comes to home building.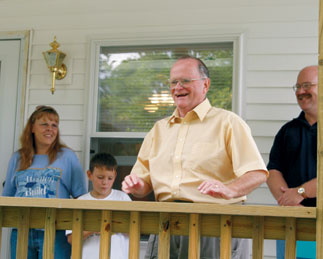 "My mom died when I was 12," Larry Frye H'81 says, glancing out the window of his office in the College's Lilly Library. On one wall is a painting of the old Rock River Ridge Road Bridge by local artist Pat Galloway. Prints from a recent student photography contest lean against another. The coffee table is decorated with a miniature wooden elephant, a jade turtle, and sandalwood letter opener—gifts from international students who have worked with the College's head librarian.
"My grandmother went to the Christian Church in Middletown, Indiana, and after Mom died, those were the people who took care of me," Frye explains. "That's when I learned that this is just what one does if one is a Christian. I was on the receiving end at a very difficult time, and that really made a difference."
In turn, Frye has made a difference in the lives of others.
Named a Sagamore of the Wabash in 2004 by Indiana Governor Joe Kernan for his distinguished service to the State of Indiana, Frye helped found the Private Academic Library Network of Indiana (PALNI), which pools the informational resources of 26 private colleges, seminaries, and universities. He helped establish the Indiana Spectrum of Information Resources (INSPIRE), which makes databases available to all citizens of the state, and his efforts earned him the Hugh Atkinson Award for library automation and management from the American Library Association.
On campus and in Crawfords-ville you'll find Frye advising the APO service fraternity and working the concession stand, getting out the word for "Bleed for the Bell" blood drives, organizing the annual Montgomery County CROP walk for Church World Services, serving on the board of Habitat for Humanity, and chairing the College's community service committee.
Frye has an enduring gift for bringing people together to solve a problem. Something in the man says, "We can."
"We can build a house. We can organize a library network. And if it doesn't work, so what? You move on to the next thing," Frye says. "When you get a group of people together, you get all those talents you need. What you don't have, they have. You find the skills that people in the group have and work from that."
Students would be hard-pressed to find a better role model for learning to lead effectively and live humanely.
They'd be equally hard-pressed to find more of a klutz when it comes to home building.
"My hand-eye coordination is just terrible-I'm the hammer-challenged member of the Saturday Habitat crew," Frye admits. "But there's plenty of unskilled work to go around. I'm proof that you don't have to be skilled, or even very coordinated, to be able to help out. There's a role for everyone."
On the first house he helped build, though, Frye was determined to improve his skills.
"I spent every night for a whole week, with my wife helping me learn how to drive those big spikes like everyone else." Frye laughs. "That Saturday I did drive those spikes. I was tired out, but I did it. I came home and told Barbara, 'I'm a steel-drivin' man!'"
Habitat is as much about relationships as it is shelter.
"The reason I'm firmly committed to Habitat is that we don't build the house for the family, as much as build it with them," he says. "Before we can even accept their application, each adult in the household has to put in 10 hours of sweat equity on another we've built. Then each puts in 200 hours on their own home. It takes up to 10 months to build a house, so we work alongside these people for almost two years, and that's the most rewarding thing.
"And we keep those connections. Some of these families have never owned a house, so each of them is given a mentor to help them through the fine points. But it's about more than helping them be homeowners. I'm the mentor for a woman here in town, and we've maintained our connection as friends. That's kind of neat-a new friend."
His good work has earned Frye recognition. He calls being named an honorary alumnus of Wabash "the one award that is most touching to me.
"I love this place," he adds. "It's one of the best things that's ever happened to me, for my vocation, for my life.
"But I do remind myself every once in a while, when hubris does kick in, that things go on whether I do them or not."
He learned that lesson while a first-generation college student at Bethany College. Involved in service projects there, Frye was returning from Yale with his future wife Barbara and his friend Mal Sillars where they'd been scouting housing for his year as a Woodrow Wilson scholar. Frye hit a patch of ice and rolled his VW Beetle. When he pulled himself out of the upside-down vehicle, another car came sliding toward him. Sillars pulled his friend out of the way and saved his life, but Frye was struck in the legs and thrown into the air.
"I spent the spring of my senior year in the hospital, but all the projects I was involved in, things where I thought I was indispensable, kept going without me. Someone else picked them up.
"So if I start to get cocky about this stuff, I remember that whatever God's plan is for anyone, things happen. You go on. Just do what you think you can do. And that's enough."
It's a philosophy that's both humbling and freeing.
"I'm not doing this noblesse oblige; I'm doing this because of my faith."
He harkens back to that congregation that took care of him when his mother died.
"I found it to be something precious, that people took care of me. They didn't think of it as giving back-that was just who they were. The relationships in that congregation enriched them all, and nurtured me. I said, 'Hey, I want to be part of that.'"
That's what he'll be doing full time following his retirement in 2006.
"My wife says I don't have any hobbies, but if you define hobby as what you enjoy doing, then this is my hobby, and I want more time to do more community service things. That's where I get the most joy and satisfaction.
"I come home after working on a Habitat house on a Saturday, just a little worn out, and I can say to myself, 'Man, this was a great way to spend a day.'"
Photo: Larry Frye H'81 at the blessing of a Habitat for Humanity home.