Where do you feel most at home?
• May 18, 2005
Share:
With Wabash trustees discussing the possible construction of a student center, Bachelor Editor and 2005 Truman Scholar Tim Flowers '06 and senior Corey Asay asked Wabash students, "Where at Wabash do you feel most at home?"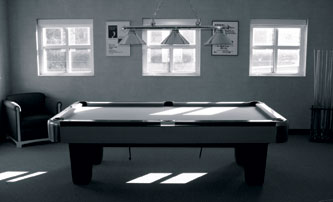 The Malcolm X Institute is where I can do anything. It is not only an academic building; it is a multitude of events. There is a poolroom, kitchen, television room, lounge, a computer lab, and the barbershop.
The MXI barbershop is more than a place to get a shave and a trim. Ever since Nikeland Cooper '05 first cut my hair there, I've stopped by most Fridays, haircut or not. I simply enjoy the company of the brothers there. We discuss any number of topics-politics, religion, campus issues, our personal lives-and I feel welcomed the moment I step through the doorway.
Much of my day during the week is spent in the MXI. That's where I feel most comfortable. It is not just the fact that the members are of darker skin tone, but I see a common shared experience in most of their faces. The MXI is not only a place where I learn academically; it's also a place to learn life. Countless hours can be spent reminiscing about childhood experiences, debating the latest issues, or simply hanging out.
--Ali Ahmed '07, Valparaiso, Indiana, editor of the MXI journal X-Position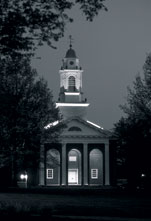 I feel safe and at ease in the Chapel, when it is empty and free of the Sphinx Club and conflict, and in Rogge Lounge in Baxter Hall.
The Chapel has a grace to it. It exudes a quiet confidence that gives me a sense of tranquility and ease.
I like Rogge Lounge's smell of constantly brewed coffee and the smell of paper. And the fact that it is tucked away in a corner, yet is very accessible.
I think that light is one reason I like both these places. Coming from south Texas, I love light. The big windows in these places allow them to be filled with sunlight; I can even see the Chapel from where I sit in Rogge.
--Rick Cantu '05, McAllen, Texas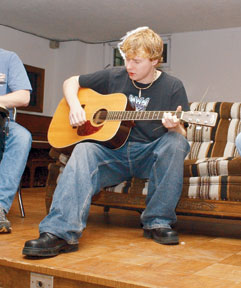 "Having grown up one block away from campus, it's difficult to identify one specific location where I feel most at home here. The second floor of the library, the Armory computer lab, the pianos in the practice rooms of the Fine Arts Center, the Little Giant Room in Sparks, and the cross lounge on the second floor of Lambda Chi Alpha have all, at one time or another, embodied for me a sense of belonging.
As far as where I feel most creative: Creativity is by no means limited to, or even optimized in the classroom. With certain students I have formed relationships that both embody and foster the creative spirit. It is with these students, and in solitude, that I am able to produce my best work.
--Abe Lucas '05, writer, musician, and organizer of the Acoustic Café music and readings nights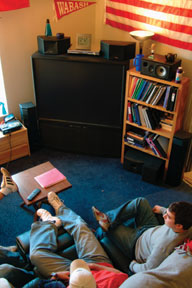 I feel at home with my fraternity brothers, or sitting on my couch. My couch provides the softness of home and the warmth I cannot find anywhere else at school.
Or maybe I feel more at home in front of my computer. I'm not really sure why, but I think it has to do with the calm and collectedness I feel when I sit down and relax.
My couch and my computer are simple reminders of home—like being back at home, nestled against my mother's shoulder.
--Greg Mahoney '06, Student Senate President, Granger, Indiana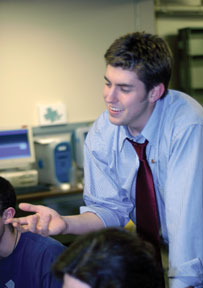 I have been editor-in-chief of The Bachelor for almost a year and a half, and sometimes the weekly challenges seem overpowering. There is always a deadline to meet; an issue to print; and a meeting to arrange.
Yet it seems the only way to escape the work is to embrace it, making it special and including others. So The Bachelor office has become my campus refuge; the place I go to interact with friends and staff members. It is always odd telling friends that my work became my release, but that is a Wabash man's life. It is a shared experience, a shared existence.
--Tim Flowers '06