Four Great Gigs: Supreme Argument
• February 2, 2006
Share: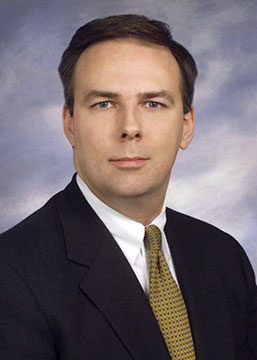 Tom Fisher '91 says that Greg Castanias '87 was "fantastic" as he argued his first case before the United States Supreme Court.
"He was calm, very professional, and his ans-wers to the Justices' questions were sincere and direct," says Indiana Solicitor General Fisher, who flew to Washington, DC for the day to see his mentor and "big brother" in action.
And how did the moment feel for Castanias?
"Before we went in, I joked that not throwing up was going to be my definition of victory."
Despite his much-respected 15-year career in appellate law—despite having argued scores of cases before federal courts and being a partner at the third largest law firm in the nation—Castanias says this case felt different. Bigger.
"Especially in the preparation process," Castanias says. "Not only is there more adrenaline, there's this internal dialogue: Oh my God! Could I crash and burn on the biggest stage on which a lawyer can argue a case?"
Castanias prepared much as he does for every case, only more intensely.
"I was supported by a group of very good lawyers who helped me write the brief and get ready for the argument," he says.
"We practiced at moot courts—essentially, dress rehearsals, where we get three to five of our colleagues to play Justice and ask me questions. By the time we're standing up for the argument, there should be no question that we haven't anticipated."
Castanias notes the performance aspect of arguing any case.
"It's not enough to be confident that you know your case and know the answers. The way in which you present the answers and weave those back to the main themes of your argument is crucial.
"Strangely enough, though, once we walked into the courtroom, my nerves and emotions were replaced with a real focus on just that case and just that argument."
When a Fox News correspondent asked Castanias what he felt like as his opposing counsel was wrapping up and it was about to be Castanias' turn, the attorney told her, "That was the time I was most locked in on the case. I wasn't at all nervous; in fact, I couldn't wait to make the argument."
Castanias' first Supreme Court argument was for what Fisher calls "a dog of a case" concerning the Rooker-Feldman Doctrine. Court watchers suspected that the high court had chosen to hear it only because they disagreed with the Appeals Court's decision.
Castanias represented the State of Georgia in his next argument before the high court—the first test of federal versus state power to be heard by new Chief Justice John Roberts, and an argument legal experts across the country were watching. Castanias was in the courtroom on January 10 when Justice Scalia read the Court's opinion from the bench, a qualified—but unanimous—win for Georgia.
"Perhaps the best feeling from the first case was discovering I could do this," says Castanias. He's grateful that Fisher and fellow Wabash alums George Patton '84 and Scott Medsker '03 came to support him.
"It was neat to turn around and see that group of Wabash men there when I finished," he says, adding that Wabash contributed to his day in other ways.
"Writing, arguing, and defending your position orally are the stock in trade of the appellate lawyer, and it's hardly surprising that Wabash is great preparation for that," he says. "If you can make it through oral comprehensive exams at Wabash, you can make it through 30 minutes with the Supreme Court."