Four Great Gigs: Dreamer
by Steve Charles • February 2, 2006
Share: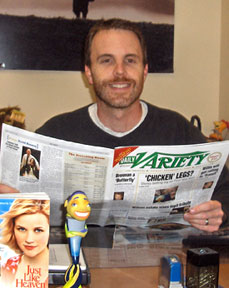 In the movie Dreamer, an 80-to-1 long shot wins the Breeder's Cup. For Mike Costello '90, who was heavily involved in the marketing of the film at DreamWorks SKG, Dreamer's opening week was a different kind of race.
"We've been working with this film since June," the former Wabash French major says on the movie's opening day. The previous week has been a flurry of advance screenings for radio and newspaper promotion. Earlier, the film's 11-year-old star, Dakota Fanning, became a Girl Scout, and DreamWorks gave a complimentary screening for Los Angeles Girl Scout troops. In early October, the studio organized a weeklong personal appearance tour where Fanning traveled to five strong family markets (including Indianapolis) to promote and publicize the film. Then Costello initiated the "Taking a Stand for Family" grassroots campaign to promote the film's values to youth ministers and educators and providing them with a study guide for after-film discussion.
"In the week leading to opening day, you're at the theater every night till 9 p.m. getting audience reactions to see if we need to augment a publicity push or TV advertising buy. Then on Friday you're in at 6 a.m. collecting reviews from hundreds of papers across the country. It has been a marathon, and today we're crossing the finishing line."
"I love this job," Costello declares with a winner's enthusiasm. "I love the challenge of positioning a product. At DreamWorks, I get to position 10 new movies each year, often to totally different audiences. Today it's the family film Dreamer; before that was the animated Wallace and Gromit; before that was the romantic comedy Just Like Heaven starring Reese Witherspoon; before that was Red Eye, a thriller from director Wes Craven. I have to keep up with trends, pay attention to the culture, get into the shoes and the mind of practically everyone in the human race!"
Costello says that much of marketing is "just human instinct."
"You're trying to find people you think the movie speaks to, then you try to place your marketing message where those people will find themselves throughout the course of their day.
"No movie speaks to everyone," Costello says, "but every movie speaks to someone."
When I mention that Dreamer didn't speak to some of the critics, Costello's rapid-fire responses cease. He seems taken aback. And that's when you learn the other reason Costello loves his job: Mike Costello loves movies. And beyond his zeal for positioning products, he's an ardent fan of Dreamer.
"To watch this movie with 300 people—to see them lean into the screen, to see men wiping their eyes during a particularly touching moment between father and daughter, to hear the whole audience erupt in applause during the race at the end of the movie—that's an amazing thing to be a part of.
"Dreamer is a 'word of mouth' movie, and it's a tough one to market," he says.
Costello has a soft spot for tough-to-market movies.
"American Beauty will always be the pinnacle of what I've done," he says. "It was a movie I love, and a difficult movie; it didn't have big-name stars, and it's divisive—some people love it, and some people hate it. But I think it's a very smart film, and if it speaks to you, it really speaks to you.
"It made $130 million at the box office, so it was rewarding to be able to nurture that film along and find an audience. When it won Best Picture at the Academy Awards, I sat in front of the TV, overwhelmed with joy. All I could do was cry."
Costello says marketing movies isn't as glamorous as it seems. Yes, he has met with the directors of most of the films Steven Spielberg's DreamWorks studio has released. But the press junkets he organizes for "the talent" find him functioning more as an event planner.
"I schedule the interviews for these, and on any day you have up to 400 to 500 of them," he says. "It's more like planning a wedding, and we're really behind the scenes, concerned with all the details and making sure the interview schedules run on time. Still, being on site at the junkets is great, because that's when you're really rubbing shoulders with the talent, and we're all working together for the same purpose."
But his favorite moment comes on the day the film premieres in Hollywood.
"Typically premieres take place at 7:30 p.m.; I get there about 6 to make sure the press is lined up and ready to go. The actors and directors don't arrive until 6:45, so there's a moment when you've got nothing to do.
"That's my favorite time. I take a step back. I look at the fans lined up down the street, kids anticipating getting autographs from the stars. I look at the red carpet, at the press lined up there. I look at the marquee and those flashing lights, and I look at the beauty of the setting sun, and think, I'm really blessed. This is terrific."