Four Great Gigs: Living History
by Steve Charles • February 2, 2006
Share: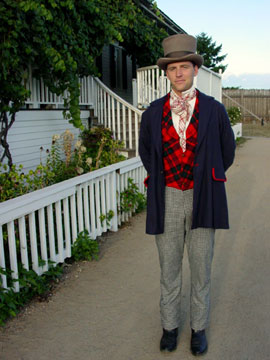 A late spring afternoon wind tinged with wood smoke whips the ribbons in the voyageurs' hair as they paddle canoes down the Columbia River. Greg Shine '90 and his companions bellow out songs in French, dreaming of two weeks of dance, music, revelry, and drinking the best rum a French-Canadian trapper can afford.
Or it's 1846 in candlelit Fort Vancouver, and Shine is a clerk from Scotland for the Hudson's Bay Company, welcoming visitors to the "Emporium of the West."
Or it's Summer 2005, and Shine is listening to the stories of women who worked in the factories, built the ships and planes their men fought and died in during World War II.
"This job is never the same from one day to the next," says Shine, chief ranger and interpreter at the Fort Vancouver National Historic Site and Reserve. "One phone call will be from a Civil War reenactment group wanting to set up camp, the next from a film company hoping to film here; and when I worked at The Presidio, I got a request from people claiming to be representatives of the artist Christo to wrap Alcatraz Island in plastic!"
Although phone calls and paperwork are part of the job, Shine spends as much time as possible on the grounds, interpreting through his characters what the fort was like in the hands of the French, the British, and, after 1849, the United States.
"This was the largest multicultural community in the Northwest," he says, enthusiasm rising with the pitch of his voice. "There were 35 different American Indian groups here with Orkney Islanders and Scots, other Europeans, French Canadians. And up to 40 percent of the employees were Hawaiian Islanders. Imagine the cacophony of sounds in the village!"
Shine knows the details by heart, and Fort Vancouver has its place there. You'd have a hard time finding anyone who more enjoys his vocation. He's certified in black powder firearms. He's fired off Civil-War-era cannons. He remembers enough French to pull off his voyageur character, and he's hoping to learn Chinook jargon, the main dialect spoken at the fort during its heyday.
It's not the sort of work people equate with the title National Park Ranger. Shine enjoyed his time as a ranger at Yosemite: the solitary winters, summer crowds long gone, when it seemed he and his wife were the only two people walking among the yellow pine and Douglas fir in one of America's greatest natural treasures.
But the work he revels in brings history alive for visitors in what he calls the "urban interface"—park sites within urban areas where the historic meets the chaotic present.
"My heart is really in these places," he says. "There's such a variety of experiences, and you have opportunities for truer partnership with your community."
Shine traces his interest in historical interpretation to Wabash and Professor Peter Frederick, who took Shine and his classmates to the Conner Prairie Living History Museum near Indianapolis.
"Stepping back into the past and hearing the stories of those who didn't have a voice in the history books—that really resonated with me," Shine says. "It was that connection that Professor Frederick was so good at establishing—not just names, dates, and ideas, but really connecting people to history."
Unsure of a career path after commencement, Shine attended graduate school at Emory University. He burned out after a year and took a job with the Department of Justice with hopes of someday transferring into the National Park Service.
"I'd always been intrigued with the national park system, but jobs there were tough to come by," Shine says. After law enforcement training at Quantico, Virginia, he became an inspector specializing in identifying fraudulent documents. He enjoyed the work, but when a line ranger position opened up at Fort Point National Historic Site under the Golden Gate Bridge, Shine jumped at the opportunity.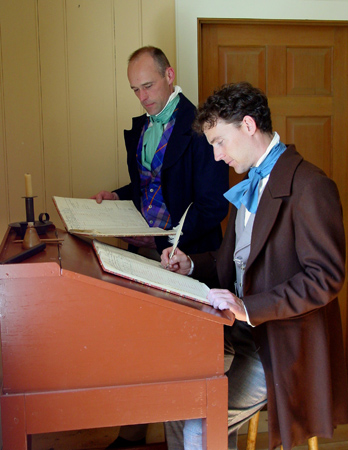 "I took a big pay cut to give tours and interpret history at this park," Shine says. And he's been wearing the National Park Service Stetson ever since.
Last summer, Shine experienced a highlight of his career as a practicing historian when Fort Vancouver hosted the nation's largest celebration of the end of World War II. More than 35,000 people attended the weekend event, which included reunion tents for veterans and Homefront oral histories and interviews.
"It was a once-in-a-lifetime experience," Shine says. "It gave us a chance, again, to bring the unseen people back into history—the veterans on the ground, the women on the Homefront, the conscientious objectors. When you talk to them, they'll say they really didn't do much. But their stories are important; all these different stories come together to craft the patchwork of our nation's history.
"My job now is to help make these sorts of stories from those Professor Frederick called 'the voiceless groups' part of our national consciousness," Shine says, "and to bring these unseen people back into our history."
Read about Shine's volunteer work in Borneo at www.earthisland.org/borneo/news/wires/03sum02.html