Little Giants Earn 5-0 Mark With Win at Allegheny
by Howard Hewitt and Brent Harris • October 6, 2007
Share:
MEADVILLE, Pa. – Chad Peterman and Evan Sobecki put the finishing touches Saturday on a Wabash 28-20 NCAC win over Allegheny.
Peterman picked off a T.J. Salopek pass on the Wabash 29-yard line to snuff out the Gators' last possession and assure the Little Giants would be 5-0 for Saturday's matchup at home against Wittenberg. (View Photo Album 1, Photo Album 2, Photo Album 3, Photo Album 4)
"I felt as though this was a really well-played football game," head coach Chris Creighton said. "Our offensive line did a nice job, and our (running) backs really ran hard. I think most of the negative plays that happened --- offensively, defensively, and on special teams --- were a result of them being good. There are some games where you feel it had nothing to do with your opponent, we were terrible. I really feel today it was a matter of them just being a good football team."
"We've wanted to get our running game going now for a decade or something like that it seems. Today we did a better job."
The pick followed an Sobecki 19-yard touchdown run at 1:52 to give the Little Giants the eight-point margin.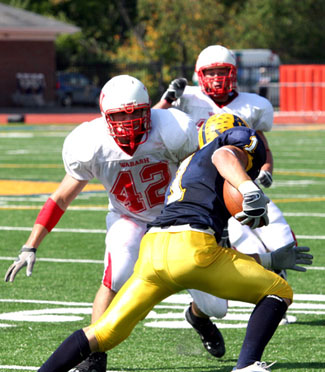 Sobecki's 103 yards on 16 carries made him the first 100-yard rusher since Chris Ogden against Wooster in 2005. Additionally, freshman Cahmelan Porter added 70 yards on 10 carries. The Wabash rushing game gained a season-high 187 yards.

The 16th-ranked Little Giants fell behind 7-0 in the first quarter when Wabash couldn't' handle an Allegheny punt. The miscue gave the Gators the football deep in Wabash territory, leading to a Devin Raynor five-yard run to cap a seven-yard run.

Wabash (5-0, 3-0 NCAC) answered with a five-play drive of 29 yards. J.T. Moore's 57-yard kickoff return set up the short field. The Little Giants took advantage when Matt Hudson hit Ray Green on a crossing route in the end zone to tie the game at 7-7.

The Little Giants took the lead midway through the second quarter. Hudson's fourth down quarterback sneak kept Wabash's drive going. Porter did the rest, reeling off a 24-yard run on his first of three consecutive carries. His final attempt ended in a 15-yard TD run putting Wabash in front 14-7. The Gators tied the score with 4:47 left in the first half.

Wabash opened the second half with an impressive 12-play, 69-yard drive that took 6:43 off the game clock Hudson was 5-of-5 passing on the drive to march the offense down the field, scoring the go-ahead touchdown on a nine-yard pass to Bart Banach.

Allegheny's next drive also ended in a touchdown, matching the 12 offensive plays by the Little Giants. Pre-season All-American kicker Josh Whiteside's extra point slammed into right upright, preserving a one-point lead for Wabash.

The Little Giant defense made that lead stand up. After a missed handoff between Hudson and Porter, the Gators (3-2, 1-1 NCAC) had the ball deep in Wabash territory once again. This time Wabash kept Allegheny's offense in check. The Gators moved backward thanks to a sack by Darryl Kennon, one of 11 tackles for losses totaling 40 yards. The fourth quarter belonged to the Little Giants as Wabash outgained the Gators by 79 yards in the final period. Adi Pynenberg and Kennon each had sacks in the final period, holding Allegheny to 15 total yards of offense for the quarter.

Sobecki scored Wabash's last touchdown after carrying seven times on the final scoring drive. His 19-yard burst through the right side of the line with 1:52 remaining forced Allegheny into a quick passing game in the final minutes. Peterman's interception ended any comeback attempt by the Gators.

"There was a big hole to the right when I got through the line," Sobecki said. "There was nobody to be seen, so I just ran straight for the endzone.

"The offensive line was just clicking today and the coaches were calling the perfect plays at the perfect times. When you get that big offensive line rolling together, it's kind of hard to miss those holes."

Pynenberg led the defense with 14 tackles and three tackles for losses. He moved past Jay Herrmann into third place on the career tackles list. Kennon also had three tackles for losses among his eight total tackles.

Wabash and Wittenberg meet next week in Crawfordsville in a 1 p.m. contest. The two teams split a share of the 2006 NCAC title.

Photos - (top right) Evan Sobecki races into the end zone for the final touchdown of the game.

(bottom left) Andy Deig was a part of a Wabash defense that held Allegheny to 15 yards in the fourth quarter.




Results: Wabash 28, Allegheny 20