Wabash Celebrates Holiday Season
• December 6, 2007
Share: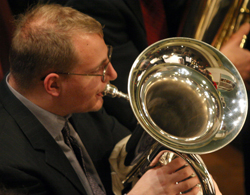 As the first semester winds down and the holidays draw near, Wabash College students, faculty, staff, and community have been celebrating the holidays. The celebration includes music of all sorts, cultural traditions, and long-time Wabash programs.
The oldest of the holiday traditions was the 40th Christmas Festiveal of Music and Readings Wednesday nigtht in the Chapel. See photos and hear the music of the Festival here.
Unidos Por Sangre hosted a dinner Tuesday evening celebrating Feliz Navidad. See a photo album here.
The week got underway when the men of the Malcolm X Institute celebrated Kwanzaa with Wabash. See photos.
Kwanza and Christmas Festival photos by Howard Hewitt UPS photos by Kim Johnson