Wabash Day - St. Louis
by Jim Thomas '73 • October 13, 2008
Share:
We had beautiful weather on Saturday morning for our Wabash Day project in St. Louis.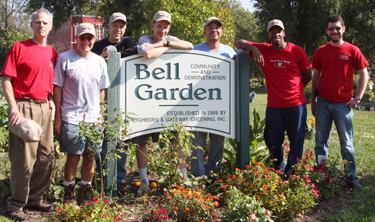 Patrick Banks '06, Patrick Drake '06, Jim Pace '78, Charlie Raiser '69, Jan Simons (Miami '69 and fiance of Charlie Raiser), Jim Thomas '73, John Williams '85, and Gary Zack '76 worked with Gateway Greening at Bell Garden, a community garden in the city of St. Louis.
Bell Garden is both a community garden and a demonstration garden for Gateway Greening, and Saturday morning was the final preparation for the annual Harvest Fair that will be held at Bell Garden on 18 October.
Wabash volunteers helped with a number of activities, including weeding two ornamental gardens and spreading a lot of mulch.