Wabash Day 2008 - Colorado
by John Panozzo '89 • October 13, 2008
Share:
The Colorado Association of Wabash Men and their friends and family gathered for the fourth consecutive year at the Karlis Family Center in Lakewood, Colorado. \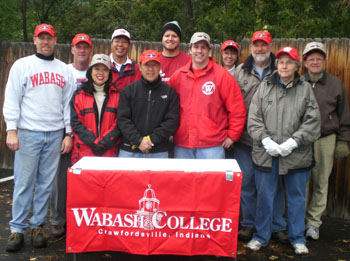 The Karlis Center is a resource facility for families who have experienced separation, divorce, domestic violence and other abuse in the home. Despite an unusally cold and rainy day in the Denver area, we were able to have 11 people come out and support our ongoing work at the facility. This year we were assigned the task of emptying and cleaning cleaning out their storage garage. We then disposed of unwanted items and reorganized wanted items in a manner where facility workers could maneuver through the garage and easily find stored items.
The facility director and staff were greatly impressed with how quickly we accomplished the assignment and expressed their appreciation to the volunteers when we were finished. Our day concluded with a luncheon at a nearby restaurant where we warmed ourselves, told Wabash stories and made plans for next year's Wabash Day in Colorado.
Participants included: John Panozzo '89, Harry Phillips '65, Kai Chin '71, Charlotte Chin (wife of Kai), Jerry Schaefer '67, Margie Schaefer (proud Wooster '65 & wife of Jerry), Tim Gagen '76, Jay Want '81, Alex Barefoot '04, Jon Conkright '01, Eva Ross - (partner/wife of the late David Wheeler '62.