Wabash Day 2008 - Lafayette
by Jonathon Bradley '96 • October 14, 2008
Share:
The Wabash volunteers repackaged over 2600 pounds of diced potatos to be distributed to families in need for Food Finders Food Bank in Lafayette. The work was cold in the 37 degree cooler, but everyone did a great job. Thank you to Ed Boes, Operations Manager, for directing us on a Saturday.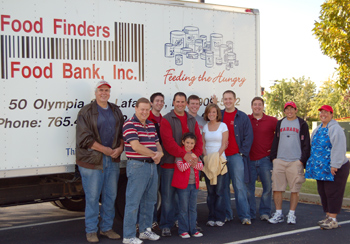 The Food Finders Food Bank serves 16 counties and 160 agencies. They are on track to provide more than 3 million pounds of food and essential non food items this year.
Participants:
-Tammy Hobbs - Son Paul (PJ) Tyson is a sophomore and Lambda Chi class of 2011
-Calvin Hobbs - PJ's brother, 15 yrs old.
-Andrew McGlothen '05
-Andy Dzivbinskyj '73
-Joe Trebley '01
-Kevin Meyer '06
-Ann Meyer - Depauw '06 (Kevin's wife)
-Shane Fimbel '02
-Jonathon Bradley '96, Delta Tau Delta -
-Stacey Bradley- wife, daughters Sydney-7, Avery-5.