Wabash Day 2008 - Shelbyville
• October 14, 2008
Share: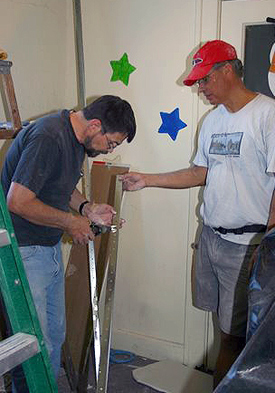 Shelby County's second Wabash Day effort was exactly what the spirit of the day is all about- alumni making new acquaintances and reviving old friendships; all the while making a substantial impact for a worthy cause. Wabash Day (Wabash Alumni Benefiting And Serving Humanity) is an effort by alumni around the globe to provide living examples of the gentlemen's rule of the College and of the mission statement of the College—to think critically, to act responsibly, to lead effectively, and to live humanely.
On October 11, 2008, seven Wabash alumni participated in the work day at the Sanctuary of Shelbyville, a transitional home for battered women, working on various projects to help get the Sanctuary ready to open later this year. Brady Rife, '00, displayed his talent with trim by preparing the trim work for an apartment in the Sanctuary. Travis Walsman, '96, worked on finishing dry wall while Doug Brown, '87, assembled cabinetry and hung doors. Chris Lux, '96 and Curt Johnson, '94 worked on creating fireproof doorways while Jack Tandy, '79, and Tom Williams, '71 worked assiduously on making window bays. When the day was done, all volunteers felt like they had made a significant contribution to the project.
In photo: Tom Williams '71 and Jack Tandy '79 work together.