Wabash Day 2008 - Washington D.C.
by Jefferson Crew '05 • October 15, 2008
Share:
For their 4th annual W.A.B.A.S.H. Day project, the National Capital Association of Wabash Men (NCAWM) renewed its relationship with Special Olympics DC. The NCAWM supported Special Olympics DC at their consolidated bowling event. The nine Wabash alumni and significant others helped keep score, guide the athletes through their bowling games, and bowled along with the athletes.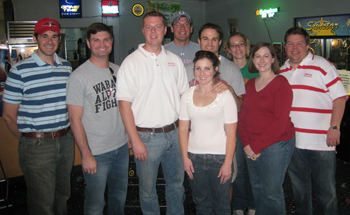 The Special Olympics athletes ranged from fully functional adults to very limited ability, but they all very obviously enjoyed the company of the NCAWM. Many of the athletes participated in some good-natured trash talking and gamesmanship with the alumni and clearly enjoyed the friendship. Several of the athletes even remembered us from the 2005 W.A.B.A.S.H. Day, which is a testament to the NCAWM's enthusiasm for community service and their commitment to spreading the fame of her honored name.

With nearly 100 Special Olympics athletes in attendance, the NCAWM was instrumental in successfully completing the bowling qualification event and ensuring that all of the athletes fulfilled the Special Olympics athlete oath, which says, "Let me win. But if I cannot win, let me be brave in the attempt." All of the alumni and their guests indicated that they really enjoyed the event and the coordinators from Special Olympics DC echoed this sentiment, which confirms the completion of another successful W.A.B.A.S.H. Day for the alumni in our nation's capital.
Particippants: Jefferson Crew '05, Ryan Clougherty '02, Jonathon Dilley '03, Scott & Lauren Medsker '03, Mike Shelbourne '00 and fiancée, Bethany Lowe, Rick & Kristin Strasser '02
See a few more photos here.