Wabash Day 2008 - Minneapolis
by Charlie Crowley '70 • October 17, 2008
Share: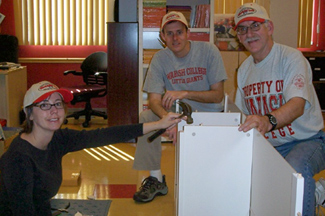 The Twin Cities Association of Wabash Men spent Saturday in St. Paul working at the Twin Cities Housing Development Corporation (TCHDC), an organization whose mission is to assist the cities of Minneapolis and St. Paul and the 7-county metro area to provide affordable multi-family housing for low and moderate income residents of the area. We met at Liberty Plaza, a 173-unit, 100% Section 8 housing development, whose residents are primarily immigrants (speaking over 20 languages), low income persons of color and other underserved families. That site provides a resource center to help low income residents and their children obtain services to improve their academic and life skills, increase their self-esteem and to move forward out of system dependency into self-sufficiency.
TCHDC was fortunate enough to receive a donation of book cases for use in their PLUS Time classroom, a project which provides afterschool and summer academic enrichment programming to children grades K-5. Unfortunately, however, the book cases came in boxes and TCHDC did not have the 'people power' to do all of the assembly.
Kyle Falconberry '96 and his wife Julie joined Charles Crowley '70 and his wife Mary in the classroom wielding screw drivers, hammers and willpower to construct these badly-need pieces of classroom furniture, replacing old book cases that were about to collapse. At the end of the day several new bookcases were in place, the doughnuts were all gone, there were no reports of injuries, and everyone was looking good in their WABASH Day caps.