The Great Wabash-DePauw Water Fight of 1958
by Phil Coons '67 • December 17, 2009
Share: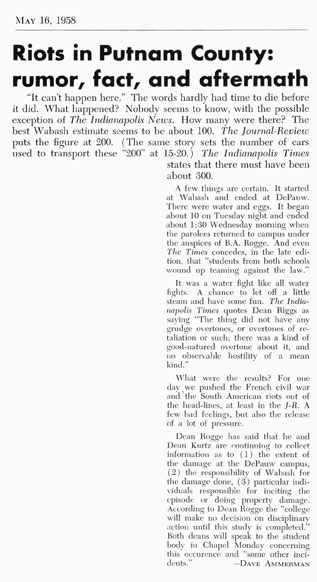 On the evening of May 13, 1958, a water fight started between the Kappa Sigs and the Phi Delts, who soon launched an attack on the Beta house.
After getting thoroughly drenched, about 125 Wabash students headed to DePauw University in a caravan of 20 to 25 cars. They arrived about 10 p.m. Once in Greencastle, the Cavemen opened fire hydrants and first attacked the Phi Gam house, then the SAEs. Water in wastebaskets and anything else that could hold water was the weapon of choice.
For some unknown reason, the Kappa Alpha Theta sorority was attacked with eggs. Even some of the local constabulary and their vehicles were attacked with water and eggs. Before long, a large group of DePauw students joined the fracas.
The Indiana State Police were called for reinforcements. The National Guard delivered tear gas in a jeep. Damage estimates ranged from several hundred to several thousand dollars. Twenty-six Wabash students were rounded up and placed in the Putnam County Jail for several hours before being rescued and escorted back to Crawfordsville by Dean Benjamin Rogge. Ultimately no charges were filed although "inciting a riot" had been considered.
The next day the Greencastle Daily Banner, Crawfordsville Journal Review, Indianapolis Star, Indianapolis News, and Indianapolis Times all ran articles on the melee. Estimates of the number of Wabash students involved ranged from 100 to 300. Two days later The Bachelor ran an article, "Riots in Putnam County: Rumor, fact and aftermath."
Both the Greencastle Daily Banner and the Crawfordsville Journal Review named the 26 hapless Wabash students who had been jailed. The gentle reader can be assured that I will not publicly name these individuals, but a brief run-down on their class year, fraternity affiliation, and future occupations are in order.
Fraternity affiliations are known for 19 individuals. Betas were over-represented with nine (that's two carloads!). There were three Phi Gams and two each of Lambda Chis, Kappa Sigs, and Phi Psis. Classes represented included three from '59, six from '60, and 11 from '61 (Younger men are known to have much less impulse control!).
Future occupations of the students included three attorneys and three physicians teachers, presidents/owners of companies, two Ph.D.s, one circuit court judge, and one financial manager.
Fortunately the good "clean" fun had the night of May 13, 1958, did not affect any future careers.