Wabash, Denison Square Off Tonight
by Brent Harris • February 22, 2010
Share:
Wabash will serve as a first-round host for the North Coast Athletic Conference Men's Basketball Tournament for the first time in four years. The second-seeded Little Giants will welcome seventh-seeded Denison to Chadwick Court Tuesday evening for a 7:30 p.m. contest.
Tickets for Tuesday night's contest are $7 for adults; and $5 for children, students (with an ID), and NCAC Guest Pass holders. There are no exceptions to the ticket pricing --- no complimentary passes for parents, fans, or students will be issued. The game will be televised over the Internet for free for fans unable to attend the game in person. Fans can view the game on Teamline.
The Little Giants earned their 11th consecutive NCAC tourney berth by finishing second in this year's league standings with a record of 12-4 while finishing 17-7 overall. However, the past three seasons Wabash has been on the road for the entire tournament.
Wabash brings a lot of previous tournament experience into this year's event. The Little Giants have advanced to the NCAC Tournament Championship Game each of the past two seasons, losing to Wooster and Ohio Wesleyan in the 2009 and 2008 title games. Last year Wabash traveled to Hiram for the opening round of the tourney, defeating the Terriers 83-75. A 73-56 win over Allegheny in the semifinals at Wooster opened the door for the Little Giants to claim their first conference title since joining the NCAC for the 1999-2000 season. Wabash's Chase Haltom and Wooster's Justin Hallowell traded three-point shots for most of the game before the Scots pulled away in the final minutes for an 84-72 win.
The Little Giants knocked off Wooster on the Scots' home floor in the semifinals of the 2008 tournament to advance to the championship game. The Little Giants opened the tourney with an 86-73 win at Kenyon before defeating the top-seeded Scots 87-63 at Timken Gymnasium. Wabash lost 89-72 to Ohio Wesleyan in the 2008 Championship game.
Wabash and Denison split their season series this year. The Big Red jumped out to a 15-0 lead to open the first meeting between the two schools on December 5, 2009. Wabash got as close as six points in the final minute before losing 78-71. Chris Luther torched the Little Giants for a career-high 32 points in the win by Denison. Wes Smith (above left) answered with 20 for Wabash, along with a 17-point effort from Haltom.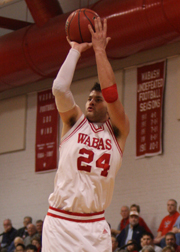 The Little Giants returned the favor in their game against Denison at Chadwick Court on January 16, 2010. Wabash raced out to an early 10-point lead and never trailed in the contest, eventually winning 70-51. Aaron Brock (right) scored 21 to lead Wabash in scoring, while Smith added another 20-point effort. Wabash held Luther to nine points while freshman Dimonde Hale, a favorite for the NCAC Newcomer of the Year Award, led Denison with 12 points.

Luther leads the Big Red (7-18, 7-9 NCAC) in scoring coming into Tuesday night's game, averaging 14.8 points a contest. Hale adds a 13.9 points-per-game average to the scoring mix to go with 4.3 rebounds a contest. Larry Farmer scores at a 10.4 points-per-game clip and tops the NCAC list in blocked shots with 35 in 25 games.

Smith is second in the NCAC in scoring with an 18.3 points-per-game average. He is also second in blocked shots (1.17 bpg), third in steals (1.71 spg), seventh in field goal percentage (.507), eighth in rebounding (6.6 rpg). Brock is 11th among NCAC players in scoring with an average of 14.5 points per game. He is also seventh in rebounding (7.0 rpg) and leads the conference in free throw percentage, connecting on 88-of-103 attempts for .854. Haltom adds 10.9 points per game to the mix for the Little Giants.

Wabash and Denison have only met in the NCAC Tournament one other time. The Little Giants won the first-round game between the two teams 89-53 at Chadwick Court in 2002. Wabash owns a 24-6 overall record against Denison and is 13-1 versus the Big Red at home. The only victory by Denison at Chadwick Court came last season in a 78-72 contest.




For more information see: