Wabash Theater Presents Take Me Out
by Jim Amidon • February 19, 2013
Share:
The Wabash College community has become comfortable listening to Larry Savoy sing with the Glee Club, A.J. Akinribade harass opposing quarterbacks on the football field, and Joe Mount dazzle us on stage at the Ball Theater.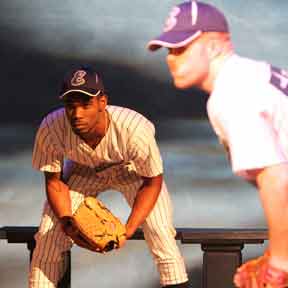 But when the three men come together in the Tony Award-winning play Take Me Out, we begin to see each man differently, which just scratches the surface of what director Michael Abbott and playwright Richard Greenberg want audiences to do. They want to make us uncomfortable and challenge our beliefs and assumptions.
Take Me Out runs through Saturday night. Tickets are free, but should be reserved in advance through the box office. See photos of dress rehearsal here and here.
Savoy plays the greatest baseball player on the planet, Darren Lemming, and he plays for the greatest team on the planet, the Empires. Lemming knows he is the best there is and his self-confidence borders on invincibility. Then, at the height of his career, he announces to the media that he is gay.
Lemming's announcement sends shockwaves through the locker room. Teammates are nervous about showering with him. The new star closer on the team, Shane Mungitt (played well by Daniel Sandberg), is an orphaned redneck who says he can tolerate playing with the foreign players, but puts his foot down when it comes to sharing the field with a gay man. When Mungitt goes to the media with a racist, homophobic rant, all hell breaks loose.
Sandberg plays the part without flaw. You at once hate him for his bigotry and hurt for his tragic upbringing and simplistic way of seeing the world.
"We tell students we will challenge them at Wabash, and I think they usually translate that to mean hard classes with lots of homework," said Abbott. "But we challenge them in other important ways too, and Take Me Out illustrates what can happen when students fully devote themselves to art, discovery, and self-expression."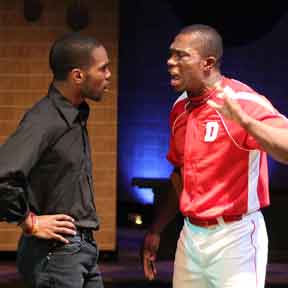 Lemming's best friend, Davey Battle (played perfectly by A.J. Akinribade in his first feature role), is the star player on the Empires' arch rival team. Battle is a religious man devoted to his family and his friends; he allows himself only two curse words and one beer. But when he finds out Darren is gay, his true feelings about homosexuality emerge in a fit of rage.
Mount, who continues to build on his impressive Wabash acting resume, keeps the play together as its narrator, the likable Kippy Sunderstrom. He knows more about baseball and life than any of the players on the Empires, and waxes on about the sport's glory — not to mention the impact of Darren's announcement.
Among many highlights of this very fine production that includes an amazing locker room set designed by James Gross, costuming by Joshua Lutton, and the work of first-time stage manager Brad Hopper, is the performance of Noah Eppler as Mason Marzac.
"Marz," as he is nicknamed by Darren, is a quirky nerd who knows nothing about baseball until he becomes Darren's money manager (and Darren is worth more than $100 million). He soon becomes infatuated by his client and his client's sport, and quickly learns everything there is to know about baseball as he spins it into lyrical prose that borders on poetry.
Eppler's scenes bring important comic relief that cut the often-violent tension as the characters grapple with homophobia, racism, and stereotypes that include dumb rednecks and overtly religious evangelists.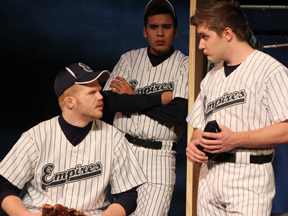 Han Nie, another newcomer, plays the on again, off again pitcher Takeshi Kawabata, whose two solo scenes in the spotlight are moving.
The rest of the team — Ryan Lutz as Toddy, P.J. Izaguirre as Martinez, Kevin Bennett as Rodriquez, Carl Sonnefeld as Jason Chenier, and Reid Smith as the Empires' skipper — turn in a winning performance as both the observers and participants in a baseball drama that cuts uncomfortably close to our best hopes and worst fears as humans encountering difference.
Abbott does yet another masterful job of telling the story and bringing along a cast of mostly first-time performers on the Wabash stage. The script moves back and forth through time, but the staging allows the audience to follow along until its suspenseful conclusion.
Even amid the ugliness that serves as the play's climax, the playwright reminds us that baseball is eternal and fans like Marzac are already excited for the next year.
"This is a difficult play on many levels, and this cast has risen to the challenge by engaging difficult material head-on and working with me as trusted collaborators," added Abbott. "I'm immensely proud of the work they have done, and I look forward to sharing this production with the Wabash community."
The Wabash College Theater Department's production of Take Me Out runs from Wednesday through Saturday nights, February 20-23, at 8:00 p.m. each evening. Tickets can be reserved by calling the box office at 765-361-6411.
The play includes adult language, partial nudity, and situations and may not be suitable for children younger than 16.