Alumni
Homecoming 2013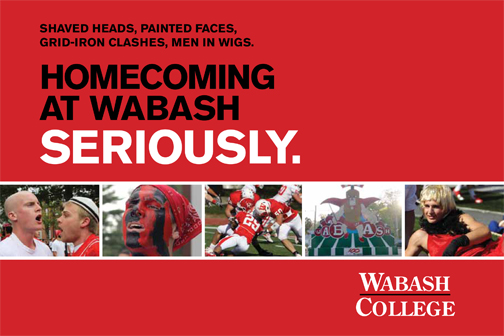 Homecoming Events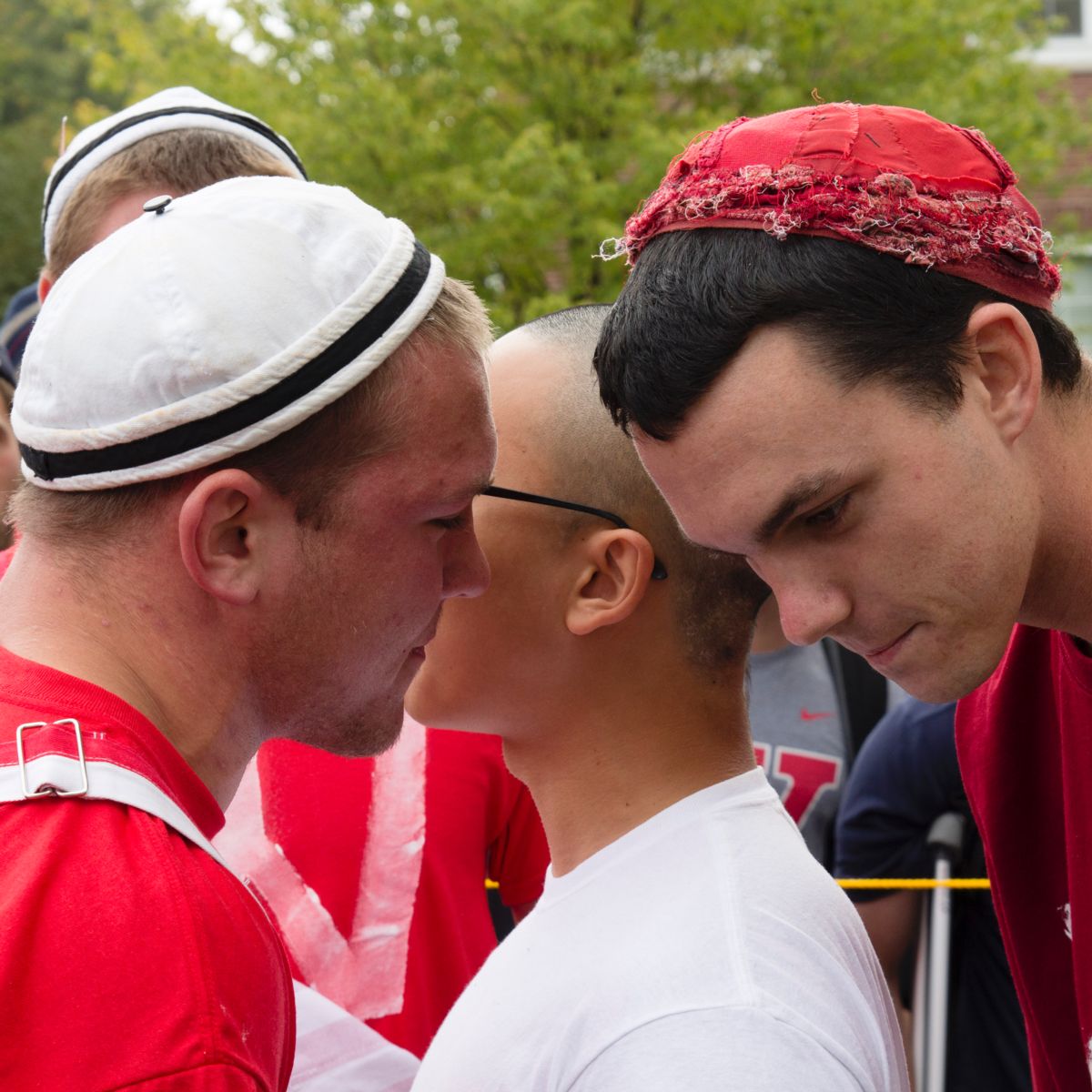 Thursday, September 19, 2013
11:00 AM – Chapel Sing
Watch as the Class of 2017 participates in this rite of passage.
Friday, September 20, 2013
8:00 AM - 12:00 PM - Experience the Wabash classroom
Get a list of open classes at the Hays Alumni Center
12:00 PM - Faculty/Staff Luncheon, Fobes Lounge, Sparks Center
Join members of Wabash's faculty and staff for an informal luncheon and program (Cost: $5.00, pay at the door)
6:00 PM - Team Athletics Hall of Fame Induction, Reception and Dinner, Chadwick Court, Allen Athletics Center
Celebrate the accomplishments of several memorable Little Giant athletic teams in the first ever team Hall of Fame induction. Reply requested. (Cost: $23.00, RSVP and pay online here or call 765-361-6369 by September 12.)
Inductees:
1908 Basketball
1951 Football
1977 Football
1980-81 Wrestling
1981-82 Basketball
1982 Football
1991 & 1993 Swimming
1994 & 1995 Cross Country
Saturday, September 21, 2013
9:30 AM - 10:45 AM - Department of Education Studies Reception for Deborah Butler, Forest Hall
Celebrate the announcement of the Deborah A. Butler Endowed Fund for Education. Reply requested. (RSVP online here or call 765-361-6369 by September 12.)
11:00 AM – Alumni Chapel, Pioneer Chapel
The annual Homecoming Alumni Chapel, celebrated in the spirit of Barney Hollett '36, represents the general meeting of the National Association of Wabash Men.
Alumni Award Winners:
John Goodrich '67 - Fredrick J. Urbaska Civic Service Award
Jim Amidon '87 - Frank W. Misch Alumni Service Award
Dick Stephenson '62 - Clarence A. Jackson Career Service Award
Ethan Olberding '99 - Jeremy Wright Young Alumnus Award
Jimmy Haffner - Honorary Alumnus
Alison Kothe - Honorary Alumna
Fred Haase '71 - Alumni Admissions Fellow
James Durham '64 - Alumni Admissions Fellow
Jeff Been '81 - Career Services Fellow
1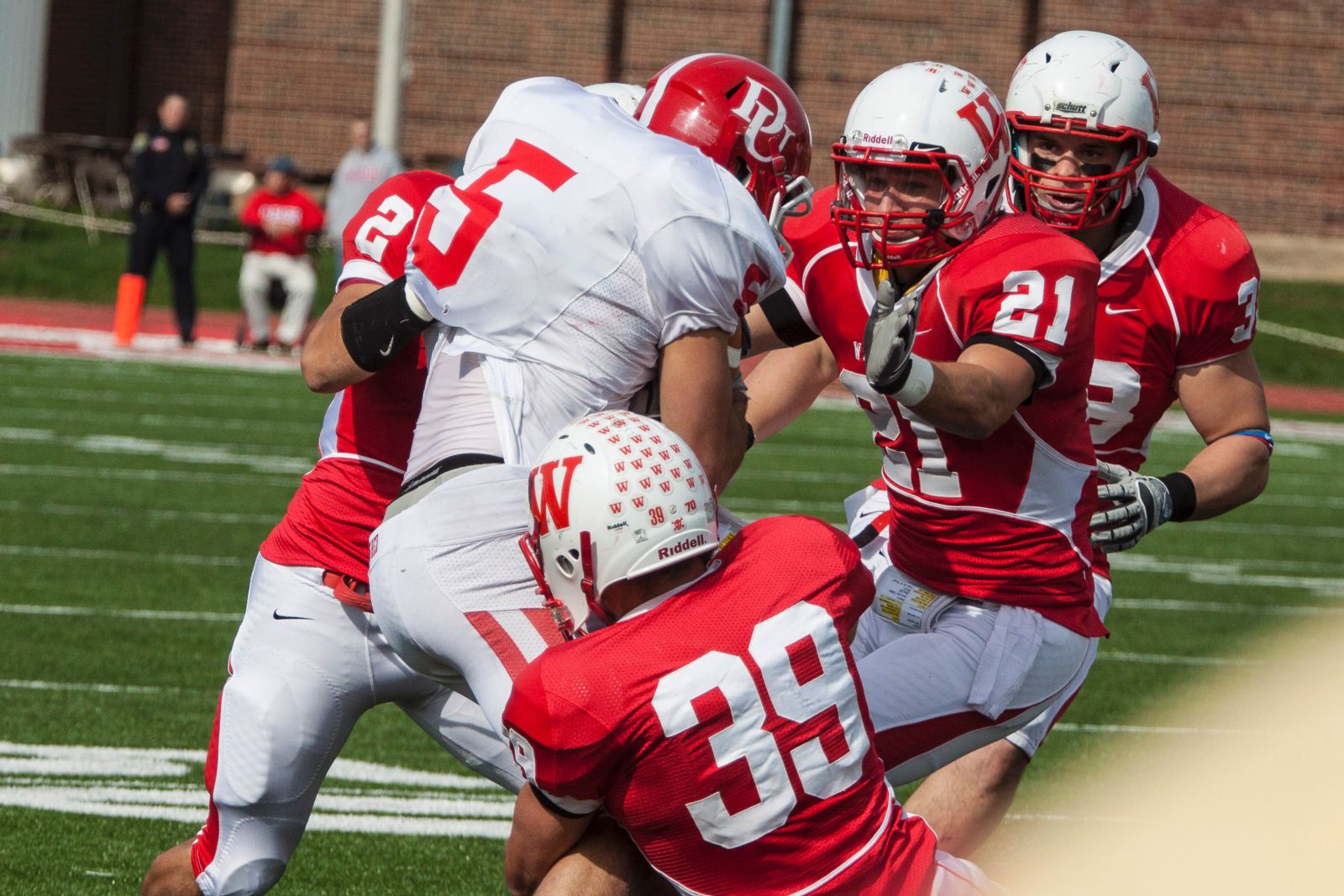 2:15 PM – Celebrating Leadership Luncheon, Knowling Fieldhouse, Allen Athletics Center.
Celebrate the Annual Fund's successful year and long history of supporting Wabash students. Reply requested (RSVP Online here or call 765-361-6369 by September 12.)
2:00 PM – Football vs. Denison University, Byron P. Hollett Little Giant Stadium
7:30 PM – Homecoming Concert, Salter Concert Hall, Fine Arts Center
Listen as the Wabash Glee Club presents the annual Homecoming Concert.
*Make time to stop by the Eric Dean Gallery int he Fine Arts Center to see the Habitat group exhibition, which highlights the artwork of sculptor Stacey Holloway and painters Tammie Brazee and Laura Carpenter Truitt. The exhibiting artists invite the viewer to consider the spaces in which we live and how we live in them at this moment in history from multiple vantage points. Open Thursday and Friday 9 a.m. to 5 p.m. and Saturday 10 a.m. to 2 p.m. For more information visit www.wabash.edu/fineartscalendar.