Career Services
About Us
---
WHAT WE DO
WABASH WORKS FOR YOU. Wabash prepares its students to meet their futures with confidence and clarity. The Schroeder Center for Career Development helps students identify and execute plans to become productive and fulfilled men after Wabash. Through our programming and services, students encounter opportunities to explore and reach their individual career goals, from employment to graduate school to teaching English in Africa. Whatever he can dream, we offer individualized programs and resources to help a Wabash man get there.
OUTCOMES
Learn more about where Wabash men go during and after Wabash, in internships, research opportunties, graduate studies, and jobs.
Scott Crawford
Director of Career Services
Scott Crawford, Director of the Schroeder Center For Career Development, will be entering his 10th year at Wabash this fall, 21st year in the Career Services field. Prior to Wabash, Scott worked at Johns Hopkins University, George Washington University, Adrian College, Wichita State University, Valdosta State University.
Scott graduated from the University of Arkansas with a BSBA in Human Resources Management and has a M.Ed in Higher Education Administration.
Scott lives in Crawfordsville, in a very old house complete with a forest he planted in the front yard, just down Wabash Avenue from the College. He is a single father of 3 dogs. crawfors@wabash.edu
Casey Hockersmith
Administrative and Recruiting Assistance
Casey is a Montgomery county native and a graduate of Southmont High School. She earned a BS in Sport Marketing and Management from Indiana University. Her previous position was as an Assistant to the Coaching Staff for the IU Men's Basketball program. Casey and her husband, Zach, spend their time with their Australian Shepherd pup, Remy, and renovating their home.
Cassie Hagan
Assistant Director of Experiential Programs and Alliances
Cassie grew up outside of Crawfordsville and is a Southmont High School Alum. She earned a BFA from Ball State University where she studied the Fine Arts, concentrating in Photography. Prior to working for Wabash, she lived briefly in Wisconsin and Kentucky where she worked in retail and banking. Cassie and her husband, Danny, look forward to fixing up their new home in Mace where they will live with their two adopted dogs - Zoey and Reese. haganc@wabash.edu
Adrian Tejeda '18
Peer Career Advisor
Adrian was born and raised in Seattle, Washington. He is currently pursuing a degree in Financial Economics with a Business minor. On campus, Adrian is a brother of Phi Kappa Psi, a member of student senate, and plays long stick midfield on the lacrosse team. In his free time, he enjoys working out, rooting for the Seattle Seahawks, online shopping, and playing NHL on the Xbox. Adrian hopes to start his own clothing line someday.
Tyler Trepton '16
Peer Career Advisor
Tyler is from Saint John, Indiana where he attended Hanover Central High School in Cedar Lake, Indiana. He is currently a History major with a Business and Computer Science minor. Tyler is a brother of the Sigma Chi Fraternity where he maintains the house's website. In his free time he likes to repair video game consoles and read anything from fantasy to business. He hopes to pursue a career in technology whether that is coding, website development, marketing, or working with people. Tyler can be reached at his email at tttrepto16@wabash.edu
Aaron Becker '17
Head Peer Career Advisor
Aaron is a junior from North Webster, Indiana and is pursuing a degree in Chemistry. He completed a Research Fellowship this summer through IUSM in Fort Wayne and volunteered during his free time. Aaron plans to use his degree in Chemistry to transition into medical school following graduation. On campus, he is the President of Wabash Christian Men and is an active member of the community. In his free time, Aaron enjoys reading, hiking, video games, and watersports.
Gabe DiFecchio '16
Peer Career Advisor
Gabe was born in Pembroke Pines, FL but has lived in many different cities in the United States and abroad. Currently he resides in Lake in the Hills, IL where he attended Jacobs High School. On campus, Gabe is an active brother of the Sigma Chi Fraternity and a member of Eta Sigma Phi. He is majoring in Classics and minoring in Business and Economics. This past summer, Gabe had an internship in West Chester, PA with a financial advising firm. After Wabash, he plans on getting his MBA and working in business.
Addison Hummel '16
Peer Career Advisor
Addison is from Plainfield, IN. He is a Rhetoric major and an Economics minor. He is a brother at Phi Delta Theta and is currently their Rush Chairman. He also serves as Vice President of the Inter-Fraternity Council. He enjoys spending his time attending sporting events, socializing with friends, and visiting the lake.
George Pippin '19
Junior Peer Career Advisor
George Pippen was born and raised in Carmel, Indiana. George is considering majoring in rhetoric with a possible minor in Spanish. He worked at Cosmos Superior Foods this past summer creating and manufacturing dog treats. After college, George possibly wants to pursue law school and be involved in music law. On campus, George is involved in College Mentors for Kids, Wabash Christian Men, and lives in Beta Theta Pi Fraternity.?
Collin Bell '17
Peer Career Advisor
Collin is from Richmond, Indiana where he attended Northeastern High School. He is planning on a degree in political science with a minor in Spanish. On campus Collin is a member of the the Wabash Golf Team and a brother of Phi Delta Theta. In his free time he enjoys playing basketball, watching any and every movie, and simply hanging out.
Steven Stark '19
Junior Peer Career Advisor
Steven is from Indianapolis, IN where he attended Cathedral High School. He plans on majoring in Physics and minoring in German. Steven is currently pledging at Sigma Chi Fraternity and is a member of the Wabash lacrosse team. In his free time, he enjoys working out, playing video games, and making music.
Jade Doty
Peer Career Advisor
Jade Doty was born and raised in West Lafayette Indiana. Jade is pursuing a degree in Biology and a minor in English. He worked at Goodrich Quality Theater's Wabash Landing 9 in West Lafayette and this past summer he worked at Lafayette's Street Department. After college Jade Plans on going on to graduates school and ultimately will try to reach his goal of becoming a professor. On Campus Jade is involved in the Bachelor where he is a staff writer, College Demorcrats, and WAR Council. Jade lives at Beta Theta Pi, where he is a neophyte and is also a member of the Wabash Football team.
Drew Biddle
Peer Career Advisor
Drew was born and raised just outside of Indianapolis, IN where he attended Roncalli high school. At Wabash he intends on majoring in Financial Economics with a minor in Business. Also, he is a member of the Wabash baseball team, Wabash Investment Club, and President of his fraternity Lambda Chi Alpha. In his free time he enjoys listening to music, working out, participating in intramural sports, and watching his favorite sports teams including the Colts, Cubs, and Pacers.
Sean Grannan '16
Peer Career Advisor
Sean was born and raised in Naperville, IL, where he attended both Neuqua Valley High School and Waubonsie Valley High School. He is an Economics major, as well as an Art and Spanish double minor. On campus, Sean is a brother of Phi Kappa Psi, and a member of Ultimate Frisbee, Chamber Orchestra, and Spanish Club. In his free time, he enjoys participating in sports, rooting for the Chicago White Sox and the Chicago Bears, and hanging out with friends.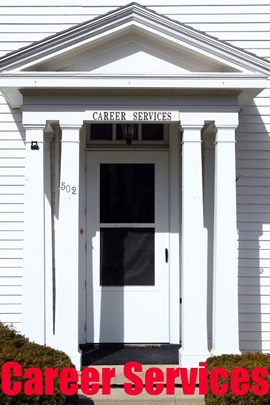 Schroeder Center for Career Development
---
Personal, walk-in service anytime.
Arnold House, 502 W Wabash Ave.
Hours: M-F, 8a - 4:30p; Su-Th 7p - 10p
Phone: 765-361-6414
Email: career@wabash.edu
Scott Crawford, Director
Cassie Hagan, Assistant Director of Experiential Programs and Alliances
Casey Hockersmith, Administrative & Recruiting Assistant