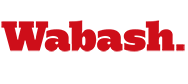 'Once-in-a-lifetime' Course Tackles the Census
by Richard Paige

October 8, 2019

It says right on the syllabus, this is a "once-in-lifetime course."

The 16 students in Dr. Shamira Gelbman's PSC210/PPE238 course entitled "The 2020 Census" are in the middle of a unique experience. A recent community lunch gathering was just another example.

Paired with the League of Women Voters, the students led an informative dialogue on the 2020 Census and facilitated a Q&A session with more than 20 community residents.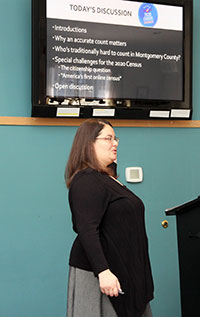 The task of completing the census – count everyone once, and only once, in the place they live with no location errors – has always had challenges since the constitutionally mandated counts began in 1790. The current census will be the first conducted on-line.
"The census was one of the key reasons behind the ratification of the Constitution (between 1787-90)," said Jonathan Morales '22. "The backbone of America is built upon the census."
The class is working with Mayor Todd Barton's Office on the "Crawfordsville Counts" community engagement project, which focuses on educating and promoting local participation in the census through meetings and special events. Further, the class will produce promotional "Get Out The Count" materials that include a 2020 Census exhibit at the Carnegie Museum and a permanent collection of digital fliers, brochures, and videos that the community can download and use in 2020.
Monday's "Lunch with the League" discussion focused on what's ahead. Students talked about why the census is important, including how federal funding is based on population totals and how the census affects legislative representation.
"I enjoy how we are connecting with the community," said Zack Titus '21. "The 2020 census is crucial and I see a lot of benefits to being involved in this way. It's been enlightening to see the demographics and to view the impacts beyond the numbers."
Additional questions arose, such as which groups are traditionally over- or under-counted, community importance, the length of the questionnaire, internet access, and even general governmental mistrust. The students responded with confident and thoughtful answers, acting as experts in the discussion.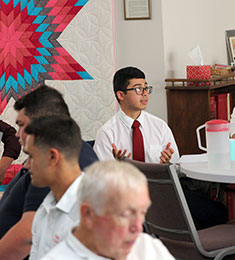 The class has engaged with Mayor Barton and other civic leaders like Kristi Craft, Executive Director of Pam's Promise Transitional Housing Corp.; Samantha Cravens, Health Educator at the Montgomery County Health Dept.; and Fr. Christopher Shocklee, pastor of St. Bernard Catholic Church to discuss how the census affects those slices of the community.
Those meetings also have driven a good deal of class content.
"The highlights have been our conversations with community partners," said Gelbman, Associate Professor of Political Science. "They each bring different angles, challenges, and opinions on how they best think to communicate. Our discussions have grown out of those conversations and our class materials. The class dynamic has been great."